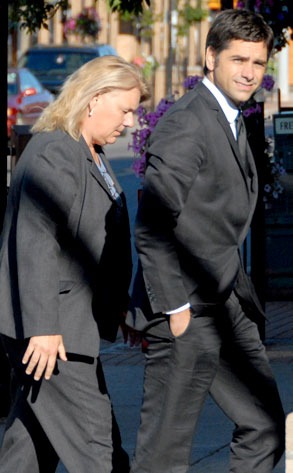 AP Photo/The Mining Journal, Andy Nelson-Zaleski
John Stamos needed some cheering up six years ago after separating from wife Rebecca Romijn.
Little did he realize a brief hookup with a girl in Orlando would land him on the witness stand fighting to save his reputation.
The former ER hunk testified today at the Michigan trial of said female, Allison Coss, and cohort Scott Sippola, both of whom are accused of trying to extort $680,000 from the actor in return for not selling some supposedly scandalous photos to the tabloids.
Stamos, 46, told the court that he first encountered Coss at an 18-and-over nightclub called Pleasure Island when he was "heartbroken" over his split with the supermodel-actress.
He recounted how Coss lied when she told him she was a college student on spring break when in actuality she was only 17 (nearly the same age at the time as his old Full House costars Mary-Kate and Ashley Olsen).
He invited her and a couple of other people back to his hotel room for a few hours, describing the interactions as purely "socializing" and "hanging out" with nothing illicit occurring. In fact, he and Coss remained friends afterward and exchanged "flirty" emails over the years.
Until that is, he received a pair of peculiar emails last September from a person identified only as "J Taylor." Stamos was asked by prosecutors to read excerpts about 40 of those emails.
In the first message, the writer claimed she was pregnant and that Stamos was the father. The second expressed distress that he had not gotten back to her and she hinted that she might go public with news of his love child.
"If this gets out, I am screwed, I am screwed. But most of all you are screwed 10 times more than me," read the email.
Shortly thereafter, Stamos recounted, Coss suddenly contacted him and revealed that she had cervical cancer and that she was being hounded by a man looking to expose their relationship and that she was going to meet with him to discuss some compromising photos he somehow had obtained.
At the D.A.'s behest, Stamos read several emails that depicted Coss as extremely concerned about the pics—along with Samos' replies stating that he and Coss didn't do anything wrong.
"We didn't take any bad pics. I'm too smart," wrote back Stamos.
Stamos also wrote asking her how to get in touch with the the man.
Eventually, he testified, he heard from the alleged blackmailer, identified in his emails as "Brian L.," who described the photos as incriminating—like Stamos posing with two strippers, a bag of cocaine and alcohol. Mr. L. said he had an offer from a tabloid to buy the pictures for $780,000 but that he would sell them to Stamos for $680,000 to keep them from getting out.
At that point, Stamos got wise.
"I felt threatened, violated...I felt this was illegal," he told the court.
Stamos reached out to the FBI, whose investigators began monitoring the communications. Eventually, investigators began impersonating the actor as they set up a sting.
Ultimately Coss, now 23, and Sippola, 30, were nabbed by the feds at a Michigan airport.
According to two FBI agents who also testified today, Sippola sent 18 of the emails under the Brian L. pseudonym. Also appearing as witnesses for the prosecution was a senior editor from Star magazine, who said he never received the pics in question, but wouldn't pay the amount Coss and Sippola allegedly asked for anyway, saying it was too high.
Stamos' testimony, meanwhile, stands in stark contrast to the defense's claims in opening statements that strippers showed up at Stamos' hotel room with the coke, and the group proceeded to party, culminating with the actor having a fling with an underage Coss.
Defense attorney Sarah Henderson said in opening remarks yesterday that after Coss and another girl were invited up to Stamos' room, the two snapped a photo of the star bending over a table with cocaine on it. The legal eagle then said things got hot and heavy. Stamos and Coss kissed on a bed, then got in a hot tub in their underwear where Stamos purported asked her if she could perform oral sex on her.
According to Henderson, Coss declined, and after initially getting angry, he let her stay the night and they kept in touch.
The attorney acknowledged that her client and Sippola had sent the emails in question to Stamos last year, but said they were merely reaching out as part of a business transaction, not a bungled extortion plot.
Tell that to David Letterman's convicted blackmailer, who used the "commercial transaction" excuse to no avail.
The trial is expected to wrap up by the end of the week.