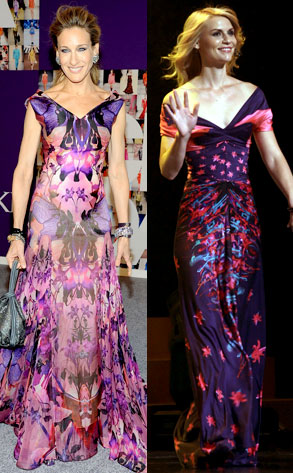 Jamie McCarthy/WireImage.com; STR/AFP/Getty Images
Wearing purple and pink without looking like Barbie can be tough, but Sarah Jessica Parker and Claire Danes both nail the bold color combo in these vibrant gowns.
SJP paid homage to her late friend Alexander Mcqueen in his stunning kaleidoscope creation at the CFDA Fashion Awards in New York early last month, while Claire looked like she stepped right off the runway in her floral and star print Zac Posen dress at the Shanghai Film Festival a couple of weeks later.
Both actresses look like couture queens, but can you spot which one paid thousands less for her look?
Find out in our Who Broke the Bank? shopping game!