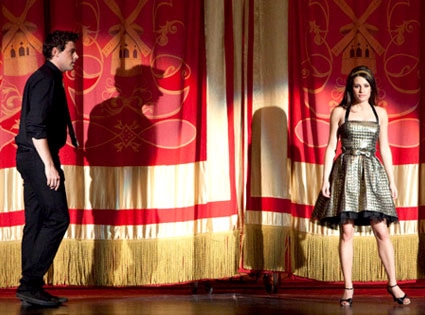 Adam Rose/FOX
We heard ya, Gleeks. And in our quest to answer each and every one of your burning shipper Q's (of which there were many—our filled-to-capacity Twitter inboxes can attest to that!), we acquired some pretty juicy intel on Emmy fave's second season.
Finchel? Check. Quick? Check. Puckleberry? Um...check minus.
Here are the dirty deets Glee masterminds Ryan Murphy, Brad Falchuk and Ian Brennan spilled Monday night at the Paley Center's Inside the Writers Room extravaganza:
Finn & Rachel FTW! Puck & Quinn DOA? Avert your eyes, Puck (Mark Salling) and Jesse St. James (Jonathan Groff)! According to Ryan: "Rachel (Lea Michele) and Finn (Cory Monteith) broke up twice. So, let's keep them together—these two very different people—and let's really see how an entire season, if there's no breakup scenes, what does that couple look like at the end of the season?" Yes, you read right. Finn and Rachel will enjoy coupledom for the whole season, a nearly unheard of concept in TV land.
But don't expect a carefree romance by any means. We are talking about the Rachel Berry, drama queen extraordinaire. According to Brad, we should expect those "Like a Virgin" fibs to come back to haunt them. "That's a whole episode right there. When [Rachel] finds out, what will she do?" adds Murphy. Our guess? Sing an angst-filled power ballad.
As for Quick, expect a longer journey to couplesville. "That's a sweet one," reveals Ryan. "Puck still loves Quinn (Dianna Agron), but she needs to go off and find herself again." Brad adds, "She's a completely different person now, and now we have other parts of her to explore."
Sue Gets Mean(er): Think you'd see a softer side of the track-suited wonder after her New Directions-saving act in the finale? Think again. "We want to go back to the mean Sue from the beginning," laughs Ryan. "Keep her mean. Jane [Lynch] loves it." Brad adds, "She will have her moments, but the reality is she's just not a particularly nice person." And mark our words, we wouldn't have it any other way.
The Return of Terri: Fan fave or not, Terri (Jessalyn Gilsig) is a favorite of the writers and will be back full-time and still trying to weasel her way back into Will's heart. "She still loves Will and she's someone who doesn't like not getting what she wants," says Brad. Terri will be getting a new love interest this season—Hallelujah!—someone to make Will very jealous. "Who is that person? It's not the principal, for one. We have a very narrow list of candidates," admits Murphy.
More B.S.: That's Brittany and Santana! "Our plan is to really get deeper into the characters we have and and explore them," Brad tells us. The reason why? "When we did Radio City Music Hall and Heather [Morris] and Naya [Rivera] came out, the roof lifted off. The same thing happened with Mike Chang (Harry Shum Jr.)," explains Ryan.
Rumore Patrol—Guest Star Edition: You guys may have heard (insert any celeb name here) was guesting on Glee. Well, don't believe everything you read. "There's always so many casting rumors that are not true," says Ryan. Here's the whole truth and nothing but, from the mouth of Mr. Murphy:
• Britney Spears: "We're doing an episode about Britney Spears, but she's not on the show. It's not like anything we've ever done. There's a twist on it." That twist might be that Heather's dream has come true, because TV Guide is reporting that the Brit ep is centered around airhead cheerleader Brittany. Woo to the hoo!
• Javier Bardem: "That's true. He said, 'I want to come on. Will you write me something?' How do you say no to Javier Bardem? We'll probably do it in the second half of the season."
• Jennifer Lopez: "I love Jennifer. We keep talking about it. Again, we're just trying to find the right part."
• Justin Timberlake: "I don't know where that came from. We love him. He's the kids' favorite. A lot of this stuff comes from, 'Who would you like to be on the show?' And one of the kids said Justin and I said 'Yeah, I love Justin.'"
• Kristin Chenoweth: "Definitely coming back. We're getting ready to write that."
• Jonathan Groff: "He is doing a play in London 'til January. We always have a spot for Jon, but he's not in the country."
Check back Monday for some Will and Emma scoop in the Spoiler Chat—we know you want it! And in the meantime, give us the goods on what you think about all this Glee goodness. And if you just can't get enough, be sure to pick up Glee: The Complete First Season on DVD and Blu-ray September 14.
________
Keep up to date on all your TV news by following the WWK Team on Twitter:  @kristindsantos @megmasters @drumoorhouse @jbomb11 @tbrick_2
________
And if you have any questions for Jane Lynch, host of this year's @dosomething Awards, ask it on Twitter! Use #DSAwards, and she might answer it live next Monday at 9/8c on VH1!