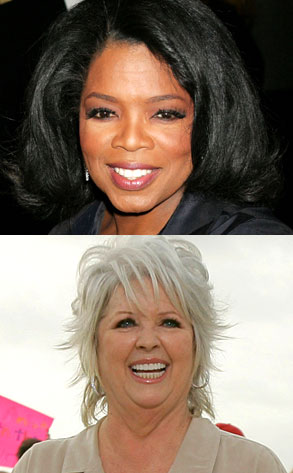 Nancy Kaszerman/ZUMAPress.com, AP Photo/J. Pat Carter
Attention powerful celebrities: Are your ears burning? Forbes unleashed its annual list of the 100 Most Powerful Celebrities this week and guess what? A cool 100 of you were on it. Despite the fact that we don't even recognize a good number of names on the list—what is sports?—this year's list-a-dee-doo-dah is being widely received as the very best one yet. (It certainly smokes 2004's half-assed effort! You know what we are talking about!)
Oprah Winfrey retains her top status as Forbes' no. 1 because that's what she told them was going to happen. Completing the bookends at 100 is the Food Network's bon vivant, Paula Deen, who, admittedly, we'd never even heard of until seeing this list. Which explains why she's at 100, we suppose. In between is the usual motley collection of actors, entrepreneurs, race car drivers and pretty ladies.
There were some surprises though, a few of which we dare to take issue with, recompense be damned!
AP Photo/Kevork Djansezian
No. 5, David Beckham: This guy plays soccer, right? Last time we checked we're living in the USA, Forbes. Being the Leonardo Da Vinci of soccer here is like being the Leonardo Da Vinci of being currently alive.
Verdict: Low sixties, which is upper twenties after US / Euro conversion.
Chris Weeks/WireImage.com
No. 30, Dr. Phil McGraw: Oh, come on. We don't care if he's got the money or the numbers to back it up. There's no way Dr. Phil belongs on this list. You know it, we know it, the whole world knows it. Let's just pretend his file got lost and start over.
Verdict: Doesn't make the list, if at all possible doesn't even exist.
Jim Spellman/WireImage.com
No. 49, Nicolas Cage: Who saw Ghost Rider? We did. Who didn't see Ghost Rider? The editors of Forbes magazine, apparently.
Verdict: Doesn't make the list and no more National Treasures either while we're at it.
Stephen Lovekin/WireImage.com
No. 74, Regis Philbin: Seventy-four? Obviously someone there has never crossed the path of the Bronx Knuckles. Do yourselves a favor: Recall all the copies of your magazine, correct the error and republish before you regret it. When they call Regis "the hardest working man in show business," the emphasis goes on hardest, get it? He will destroy your entire life between bites of a bialy.
Verdict: Top ten definitely. Top five if you care about your family.
Duffy-Marie Arnoult/WireImage.com
No. 76, Rachael Ray: OK, yes, you're right. This does seem like a fair position here, but, listen, could you do us a favor and just bump her up the list a little bit? We have an understanding, we and Ray-Ray do, and this kind of news is liable to taint an otherwise beautiful weekend in the Hamptons.
Verdict: Upper half is good enough. Not asking a lot, really.
John Sciulli/WireImage.com
No. 97, Lauren Conrad: This list has obviously been bought and sold by the forces of the Unseen Hand and we're going to do everything in our power to bring your con-job magazine to the attention of the authorities. If any authority still exists in this fallen nation.
Verdict: Number one. Sure. Why not? If the world's gone all topsy-turvy, we may as well ride it into the sun.