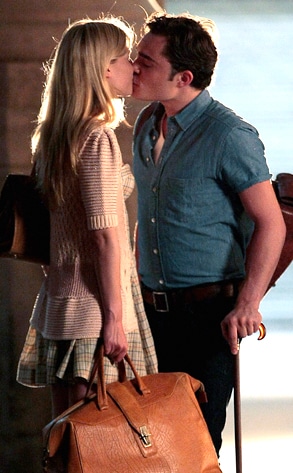 PacificCoastNews.com
Shield your eyes from the devastation at left!
Yes, Gossip Girl has done it again, tearing apart our beloved Chair...all right, that kinda sounded like we were talking about an actual chair, but obviously we're referring to the CW's tortured twosome, Chuck and Blair.
And now the inclusion of Bass' new babe, Clemence Poésy, to whom he is indulging in some serious lip-lockage in gay Paree, has us concerned: Is this a sign of things to come when G.G. returns this fall? Is Bluck a goner?!
We have scoop on all of Gossip Girl's Parisian adventures, plus news on Steve Carell's Office departure and True Blood's new werewolfstress...
Brandon in Oregon: I saw some Team WWK Twitter action about Showtime's new series Shameless. What else can you guys spill?
Besides the fact that it's far and away one of the best series pilots we've seen in recent history, Showtime announced today that we can all mark our calendars for its much-anticipated premiere date: Sunday, Jan. 9, 2011 at 10 p.m. And get ready to see some acting genius coming from Emmy Rossum, who is easily an awards season shoo-in next year. The picture on the right is a little misleading though, sadly, because Alison Janney (aka West Wing's C.J. and evilish mother of Lost's Jacob) is no longer a part of the project because of her new gig on ABC's Mr. Sunshine.
Gina in Montpelier, Vt.: What's ahead on the next season of Project Runway? Hope it's better than what we saw last year.
No word yet on the quality of Project Runway's eighth season, but the quantity is definitely greater. Each episode is now 90 minutes a pop! How's that sounds? P.R. premieres Thursday, July 29. Here's a quick peek for you.
Jule in Kansas: Rookie Blue, please.
Good news, Ephram Brown fans, Gregory Smith and the Rookie Blue gang will be back for a second season, ABC announced today. No word yet on renewal options for The Gates or Scoundrels.
Moira from Lexington, Ky.: Bethenny Getting Married is so much fun, even without the evil Jill Zarin. (Team Bethenny FTW!) Is there going to be a second season? And since she's already married, what are they gonna call it?
Go Team! We asked Bethenny Frankel herself that very question, and she didn't have an answer. (I know, hard to believe, right?) Instead she put the phone down and consulted her new husband, Jason Hoppy. His suggestion? Bethenny Getting Pregnant. I guess you could say he's the show's executive producer. Ba-dum-bump.
Mia in Huntington Beach, Calif.: Any Comic-Con news?
Take a gander at our just-posted 2010 Comic-Con TV schedule here. It's gonna be a doozy!
Joanie in Utah: So what's the deal? Chuck and his new girl have been kissing all over Paris, but where are Blair and Serena, and why aren't she and Chuck still apart?
Ahhh, Gossip Girl and the games they play. First, let us remind you that we should all be rejoicing! Chuck Bass is alive and well after that near-fatal finale. He is seriously rockin' that cane too, might we add. Now here's what we can tell you: The bulk of what's getting out on the interwebs from Gossip Girl's shoot in Paris is mainly Chuck and his new gal-pal, and Blair and Serena pushing each other into fountains. But we have it on good authority that B  and C will in fact reunite in the City of Light; there are some discussions to be had. Don't expect the two to head back to NYC all lovey-dovey, but maybe, just maybe Blair will begin to forgive Chuck for his Jenny-wandering ways.
Megan in South Carolina: Any Gossip Girl fun to pass along?
Looksie at what we found! Daddy-to-be Dan (Penn Badgley) and his apparently back from Haiti girlfriend Vanessa (Jessica Szhor) aren't taking this potential parenthood thing lightly. After learning he's going to have a little bundle of joy with that big bundle of joy Georgina (Michelle Trachtenberg) in the finale, D and V were spotted pushing around a stroller (containing a fake baby—practice makes perfect, right?!) in New York this week. But it's nice to see these two looking happy, no?
Joey in Montana: Any fun scoop on The Office, since it might be it's last season?
Don't be such a Negative Nellie! And, as a matter of fact, Mr. Carell just gave us (and The Academy of Television Arts and Sciences) a little ultimatum—one that might make fans of The Office quite happy: "If I win the Emmy [for Best Actor in a Comedy], I'll stay. Just want to put that out there." Hmmm, Steve must not think he'll win throwing around such promises so frivolously, but guess what? I think he's just given us the incentive to start a Steve Carell Emmy campaign! (We love you, Jim Parsons, but Michael Scott must prevail!)
Brandie in Michigan: Is there anything else you can tease about the upcoming season of The Office?
Sadly, this one will probably never materialize, but Steve Carell pitched an interesting guest star our way: Paul Rudd! Ummm, hello amazing idea. Sadly, Steve said Paul should play Jim and Pam's child, which doesn't really work since Cece Halpert is both an infant...and a girl. Any other idea for bringing Steve's constant costar onboard?
Matthew in Carmel Ranch, Calif.: What's the deal with True Blood's new werewolf, Debbie Pelt?
She's 100 percent wackadoodle, that's for sure. But we haven't seen the end of Alcide and Debbie. "Debbie doesn't put too many rules on anything. There's a little bit of a love triangle [between Alcide and Cooter]," Brit Morgan tells us. And get ready for more throwdowns with Sookie as time goes on. "Our paths definitely cross, and not in a nice way. Debbie's not fond of Sookie. It's not good."
Patty in Hollywood, Calif.: I love Dennis O'Hare on True Blood. Anything ahead for the King?
Lots and lots of blood, so says Dennis. "Russell steps up to defend the Earth because he feels like humans abdicate it. He wants them to step back, and vampires will run things because they'll do a little better." Unfortunately, all does not go well for the Mississippi man. In fact, by the end: "I'm wearing a trench coat and flip flops and I'm much bloodier. I've fallen from grace. It's a big character arch, where I end up going through a lot of pain and a lot of blood shed." Dun-dun-dun.
Brenna in Santa Barbara, Calif.: I'm so excited for the start of Mad Men. Please give me something!
Show runner Matt Weiner just revealed this: "The dramatic way that season three ended, we took it very seriously and started over in many aspects. There's a show there that has all the same characters in it with very new situations to prove to be a rich story vein." How's that tickle your fancy?
Pete in Boston: Shower us with some Vampire Diaries love today, will ya?
As you wish. Thanks to Ian Somerhalder and the clever tweeter that he is, we're now in custody of a photo of the season premiere script, titled: "The Return." So who's returning?! Our guess is that it's referencing Katherine or possibly Uncle John (David Anders), who's not quite dead yet.
Kelli in San Francisco: Is it too early for some Life Unexpected news?
Not at all! In fact, just today we confirmed Fancast's scoop that Melrose Place alum Shaun Sipos has joined the cast for season two. Fact are scarce surrounding the role, but we're hearing Shaun is set to be a teacher at Lux's school. Remember the days when you enrolled in the class of a smokin' hot instructor? Um, yeah, neither do we.
Joyce in Maryland: Give me the goods on Pretty Little Liars, please!
Alrighty, but brace yourselves for this doozy: One of the Pretty Little Liars ladies is going to discover A's identity sooner than you'd think. Troian Bellisario (Spencer) tells us: "A lot of things are coming to a head. One of the biggest things is one of us finding out who A is." Even better? A wants to be found out! "We get invited to Mona's party, and it's nowhere that any of the PLLs, except Hanna, until we get a text that says that it's a scavenger hunt, and that A is the prize. Then we're all very interested in going." Guesses as to who the lucky lady is?
Betty in Boise, Idaho: Anything else on Pretty Little Liars?
Hanna and her hot mamacita (Laura Leighton) are headed for some major financial woes. Like scary, house-losing money probs.
Jeff Vespa / Getty Images
Lynsey in Smithtown, N.Y.: I know Taylor no longer works for Rachel, but will we see her at all in the upcoming season of The Rachel Zoe Project?
Taylor, or as we like to call her, the Bleached Beast, will not appear in season three, but her actions off-camera make for some major drama on-camera. In the first episode back, we learn the real reason Taylor left and trust us, it ain't pretty. Besides not having to hear her complain 24/7, there is another upside to Tay's departure: Brad, a.k.a. the human bow tie, gets a promotion! His first task? A Harper's Bazaar cover shoot with Demi Moore. Expect a Giraffe, ten-inch heels and a missing FedEx package. As usual, it's bananas.
Jody in Schererville, Ind.: How about Lie to Me scoop?
You'll get to see The Lightman Group like never before when they investigate a shooting at a campaign rally in the July 26 episode. The truth crew is having trouble deciphering if it was an assassination attempt gone awry or just a flat out murder.
Jason in Anderson, S.C.: Kyle Chandler and Connie Britton got Emmy noms? About freakin' time! What's coming up for the Taylor's?
Those two were definitely nominations we could all get behind. Finally! And next week when FNL returns with "Injury List", you'll see just why Connie got the nod. Becky's pregnancy situation turned scandal is about to get real bad real fast for principal Tami. As you can imagine with this hot button topic, the school gets into quite an uproar, and all that anger is directed right at poor Mrs. Taylor.
Brynn in Anaheim, Calif.: What's the situation when 90210 returns?
Adrianna and Navid are still happy as clams?well, kinda. After the budding superstar took off on her summer tour, Navid is having a tough time dealing with a long-distance relationship. Expect things to escalate a bit when school's back in session and Ade's not there.
Jim in Long Beach, Calif.: I'm a fan of delicious flavor. Got any tasty tidbits about the new season of Psych?
Psych returns for its fifth season Wednesday, offering one part ice cream, two parts awesomeness...and tons of guest stars. In addition to Lost's Nestor Carbonell, Shawn (James Roday) and Gus (Dulé Hill) will be visited by CSI Miami's Adam Rodriguez (in a Fast and Furious episode), Freddie Prinze Jr., John Michael Higgins, Jean Smart, and Carl Weathers (Rocky's Apollo Creed). "We pay homage to Carl Weathers in his episode," Roday told us about one of the show's many '80s tributes. "He's in the scene?that's your hint." And William Devane guests in what Roday and creator Steve Franks call "one of the funniest eps we've done in a while," involving a "heinous crime" and offering a "glimpse into Shawn and Gus's fairly distant future." Come back here tomorrow for more glimpses into the future of Psych?including the romance of Shawn and Juliet (Maggie Lawson, Roday's real-life GF).
Bobbi in Oklahoma City: It's July, when is The Closer coming back already?
Today is your lucky day! The Closer's sixth season premieres tonight with the Major Crimes Division solving the biggest case of all: finding the breakroom in their new multimillion-dollar headquarters. This week's return is a little sitcommy, but we know drama in next week's "Help Wanted," featuring Titus Welliver (aka the Man in Black, rivaling Mark Sheppard for most TV guest roles). The smug Captain Raydor (Mary McDonnell) returns to infuriate Brenda (five-time Emmy nominee Kyra Sedgwick) by prying into her investigation?and past romance with aspiring chief Will Pope (J.K. Simmons).
Karen in Chicago, Ill.: What's the buzz on Covert Affairs? Any good stuff coming up?
Can you say "guest stars"? Better get that in your vocab pronto if you want to get into Covert Affairs, because they've got some pretty cool guest stars involved. "Oded Fehr was one of our guest stars, and he plays an Israeli spy," spills star Piper Perabo. "Eriq La Salle was in a recent episode, and then we just finished an episode with Anna Camp," she continues. Chris Gorham also dished that Greg Itzin will be making an appearance, along with Peter Gallagher, who will be a recurring character. Lots of guest stars to go around, right?
Audrey in Fond du Lac, Wis.: Loving this season of Rescue Me. What do you got for me this week?
Even with that minor setback last episode on his journey to get clean, Tommy (Denis Leary) is still pretty serious about kicking "booze and butts". It's his first day back on the job, so that, plus everyone's confidence that he'll fail, well...Tommy definitely has his work cut out for him. Especially when you take into account the final minute of this week's episode.
Keith in Dallas, Texas: Rescue me from bad summer television with some Rescue Me scoop!
Ha! You just used the name of the show to ask your question. You clever dude, you. Look for a pretty hilarious Lost reference in the beginning of next week's episode, for starters. Also, Peter Gallagher the priest officially enters the lives of the boys after the church fire. Maybe he can save Tommy's soul? And as if he doesn't have enough on his plate, Tommy finds out that maybe he should worry about his wife and Franco's friendship.