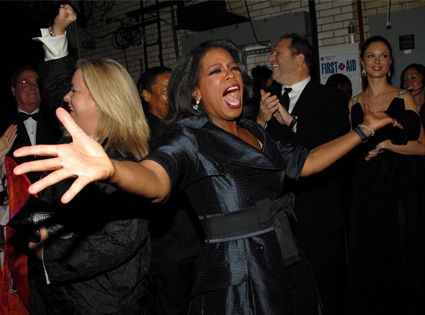 Kevin Mazur/Getty Images
If Oprah Winfrey didn't like Kitty Kelley's unauthorized bio, she probably won't be a fan of the biopic.
E! News has learned exclusively that Kelley has optioned the movie rights of her exposé Oprah for a TV movie or miniseries.
Kelley finalized a six-figure deal with Larry Thompson, a veteran producer behind biopics on Lucille Ball and Desi Arnaz, Sonny and Cher, and the Duke and Duchess of Windsor.
Thompson says that the plan is to develop the project to coincide with Winfrey's final syndicated episode in September 2011, with an unknown actress in the lead role. (Winfrey is slated to sign off on Sept. 9, 2011.)
As for how the TV queen will feel about the project?
Replies Thompson: "You'll just have to ask Oprah that question."
We did. She's not commenting yet, but we're waiting for the E! News hotline to combust any minute now.