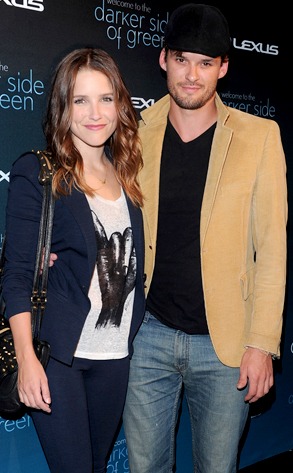 Alberto E. Rodriguez/Getty Images
Do-gooding, good-looking duo Sophia Bush and Austin Nichols hit Lexus' Darker Side of Green debate at Hollywood's Palihouse last night to discuss their recent trip to the Gulf.
"It was a very sobering experience," Sophia told me of their trip to the devastated region. "It was incredibly depressing spending time with the fishermen and all of the locals."
Luckily, she had her boyfriend and One Tree Hill costar to lean on.
"It is really nice to have someone there that cares about you," Austin said. "The first day we got back, she started crying. It was really heavy."
The two also got to enjoy a lighter vacay this summer with a trip to Hawaii. So, could the romantic destination and their characters' onscreen engagement lead to actual wedding bells?
"In real life? We shall see," Austin told me with a grin, before ducking inside to watch the debate.
And believe us when we say Sophia's environmental dedication is the real deal. During the debate, which featured an environmentalist squaring off against a global warming skeptic, she couldn't hide her disdain for the latter view.
"I am so angry right now!" she was overheard fuming during his argument.
Another cuddly couple checking out the event: Kristen Bell and Dax Shepard. Although they walked the carpet separately, the two snuggled up on a couch inside.
Ashton Kutcher was also in attendance and didn't seem phased that one debator called him out by name for being a hypocrite.
He later headed to MyStudio, where he drank Belvedere and hung with former costar Lake Bell.