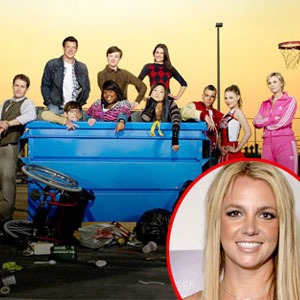 Fox; Todd Williamson/Getty Images
Sorry, Britney Spears fans, but it's official: There will be no girlie-girl lip action between Miss Spears and Rachel Berry on Glee.
(We were talking about a duet, duh! What did you dirty-minders think we meant?!)
Much to the dismay of her manager's Twitter campaign, it looks like Brit will not be appearing on the Emmy-nominated fave, but there's an upside (depending on how you look at it)...
Glee mastermind Ryan Murphy has confirmed that much-talked about Britney tribute episode will air next season. Hells to the yes, right? Anyone? Bueller?!
"We are writing a Britney Spears episode," Ryan revealed to Entertainment Tonight Thursday, a report that our sources confirm.
So far no details on the gotta-be-sexy, still TBD hour are available—it's way too early for that!—but a TV-lovin' girl can dream, can't she?
We're thinking Rachel seduces Finn with a raunchy rendition of "I'm a Slave 4 U," Kurt further ponders superstardom with a rousing cover of "Lucky," and Quinn and Puck duet on "...Baby One More Time," because, you know, they just had a baby.