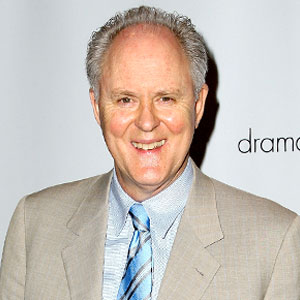 Andrew H. Walker/Getty Images
The nicest man in Hollywood (true story!) awoke to an equally nice surprise today.
"I'm feeling very happy this morning," Dexter's enthusiastic Outstanding Guest Actor in a Drama Series nominee John Lithgow told us bright and early Thursday from the Canadian set of his new flick, Rise of the Apes (another "glorious" piece of work, he says).
Just how did the veteran actor react to the good news?
He was fast asleep, of course. But thanks to his lovely rep Jennifer Allen, the nomination news was delivered, and John is beyond grateful.
"It was a real lucky thing to have such a fantastic role," he says of his time as Dexter's sinister Trinity Killer. "This was a good one."
And yes, per usual, John's graciousness continued. "My strongest feeling [is] what a fantastic group of actors I'm nominated with! It's a huge category, and they're all wonderful actors. Some of them are friends of mine. [And] all of them are my kind of actors—really fearless and original, committed actors. I feel wonderful about it this morning. Very, very proud."
A self-proclaimed Mad Men fan, John also took some time to reassure us that he will not be returning to Dexter (unlike other stars who've been offed). Still, he's happy to have helped launch the Showtime series into superstardom last season.
"I'm just an audience of the series now. I can't wait to see what happens next. Trinity is dead. I'm no longer Trinity, he's dead, thank goodness," laughed John. "But I've heard bits and pieces from Michael [C. Hall] that [Dexter's] in wonderful shape, so I'm assuming it's going to be another great season. The only difference is that it's going to have a lot more viewers this year."
Luckily, we won't have to miss John for long. He's heading out on the road soon with a one-man show called ""Stories by Heart," so stay tuned for that.