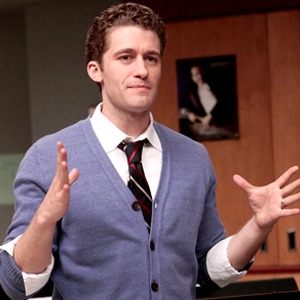 Carin Baer/FOX
Mr. Shue must be some teacher.
Glee stars, including New Directions' nearly fearless leader, Matthew Morrison, were represented all over Emmy's Comedy Series acting categories. Who got nominated? Who didn't get nominated? 
In addition to Morrison, Lea Michele, Jane Lynch, Chris Colfer, Mike O'Malley, Kristin Chenoweth and Neil Patrick Harris got nods.
To answer the previous question: Jonathan Groff—no, he didn't get nominated. "Bohemian Rhapsody" showpiece or no.
Morrison's up for Lead Actor in a Comedy Series, where 30 Rock's Alec Baldwin is back to defend his trophy, The Office's Steve Carell, Curb Your Enthusiam's Larry David and Monk's Tony Shalhoub are back to pick up their annual nominations, and The Big Bang Theory's Jim Parsons is just about now realizing last year wasn't a fluke.
The Streisand-belting Michele is up for Lead Actress in a Comedy Series. Her competition includes 2009 winner Toni Collette (United States of Tara), as well as Nurse Jackie's Edie Falco, 30 Rock's Tina Fey, Parks and Recreation's Amy Poehler and The New Adventures of Old Christine's Julia Louis-Dreyfus. Like Michele, Poehler and Falco, who Emmy'd three times for The Sopranos, are newcomers to the category.
Lynch and Colfer are up in the supporting categories—Lynch's nod was considered a lock; Colfer's not so much. O'Malley, Chenoweth and Harris are in the game as Glee stars for their guest vocals (well, except for O'Malley, who doesn't sing—at least not yet.)
A double nominee, Harris is slotted against Colfer in the supporting-actor race, where Harris' regular gig on How I Met Your Mother comes in handy yet again. Harris and Colfer are outnumbered in the category by the men (or most of them) from Modern Family: Jesse Tyler Ferguson; Eric Stonestreet; and, Ty Burrell. If not for Harris and final nominee, Two and a Half Men's Jon Cryer, the defending champ, Emmy voters would have completely cleaned house from last year. Jettisoned 2009 nominees include 30 Rock's Tracy Morgan and Jack McBrayer.
In the supporting-actress race, Lynch's Sue Sylvester antics will take on Modern Family's Julie Bowen and Sofia Vergara, 30 Rock's Jane Krakowski, Two and a Half Men's Holland Taylor and Saturday Night Live's Kristen Wiig. Chenoweth, last year's winner here, is a no-show owing to Pushing Daisies' demise. Krakowski and Wiig are both holdovers.
Lynch is also a guest-actress nominee for her Two and a Half Men stopover. If she's to prevail there, she'll have to take out, among others, Glee girl Chenoweth, national institution Betty White, up as SNL host, and Emmy favorite Fey, up for her own SNL stint.
In the guest-actor race, Glee guys Harris and O'Malley are up against the likes of Jon Hamm, nominated for his return to 30 Rock, and yet another Modern Family player, Fred Willard, who popped up as Burrell's dad.
Will Arnett's guest-actor nod, for 30 Rock, means that he and Poehler are again husband-and-wife Emmy nominees. So far, neither has won.
If you're looking for the stars of The Office and Ugly Betty, don't look here. Carell bagged his series' lone acting nod; the late Ugly Betty got nothing for nobody. 
________
Win or lose on Emmy night, it's an honor just to get dressed up. Check out our gallery, Red Carpet Rewind: Emmys.