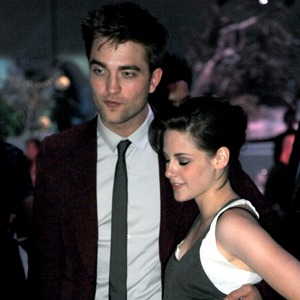 Jeff Kravitz / Film Magic
Kristen Stewart and Robert Pattinson are two of the most famous rising stars of Young H'wood, of course, (not to mention one of the most talked about couples in tabloids), but when the duo hit the town for a date night—we're sure you don't mind if we call it that, do you?—they keep it très simple: dinner and a movie...
First of all, you've heard about how castmembers from the vamp franchise have been popping into theaters across the country to thank fans for supporting Eclipse, right? Well, lucky fans at the AMC theater in L.A.'s Century City were surprised when none other than Robsten turned up to show their appreciation.
Dressed supercasual in a cute black top with her lighter 'do, Kristen took the mic to "thank [the fans] for making it such a great weekend," before giving BF R.Pattz the floor. Rob, looking deelish as usual, was decked out in a white tee and a leather jacket and really got the fans screaming when he so charmingly told them:
 "I hope you like the movie, because otherwise, this would be really embarrassing. Yeah, thanks for making [it]...such a special opening weekend for us."
And while Eclipse didn't quite top New Moon's opening at the box office, fans totally agree with what we've been saying all along: It's the best film of the series yet!
 But here's the fun romantic stuff we're really into, and you too, no doubt:
While Kristen may be a whiz in the kitchen, after their theater appearance, she and Pattinson decided to hit up Rob's fave West Hollywood haunt, SoHo House, where they grabbed a bite and some drinks.
A source inside the über-swanky hang confirmed the couple arrived together after their short and sweet Century City visit.
Always keeping things low-key, the duo sneaked into the restaurant unnoticed through a private underground entrance. Our source dishes that, never the type of couple to be overly affectionate, R and K seemed "very happy" together, smiling and looking relaxed while enjoying the penthouse view of L.A. before leaving together.
Too cute!