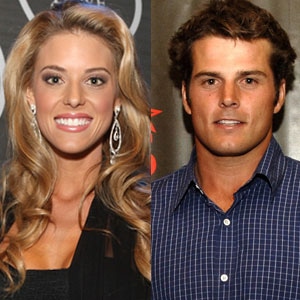 Frederick Breedon/Getty Images, Denise Truscello/Getty Images
Carrie Prejean has taken the ol' "opposite marriage" plunge.
The onetime beauty queen turned same-sex marriage opponent had a wedding of her own Friday night, swapping vows with NFL stud Kyle Boller in a lavish ceremony in San Diego.
The Oakland Raiders quarterback and Prejean said their "I do's" at Capella Church, located inside the Grand Del Mar Hotel in the bride's beachy California hometown, in a 25-minute ceremony surrounded by friends and family.
"It was beautiful," an eyewitness exclusively tells E! News. "They had cocktails on the lawn right after. Everyone seemed really happy."
Prejean toned down her over-the-top pageant day styles, walking down the aisle in a gorgeous one-shoulder mermaid-style gown while Boller and his fellow groomsmen wore traditional black tuxedos.
Leaving behind her six bridesmaids, Prejean and her new hubby were whisked away in a white Rolls Royce Phantom.
So fancy, these two.
Boller, 29, and Prejean, 23, became engaged in February, and have been together since last July.  
(Originally published July 2, 2010 at 9:08 p.m. PT)