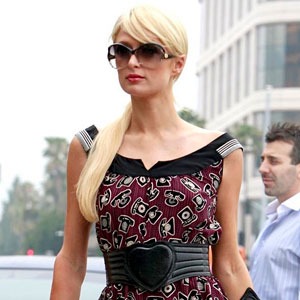 Ramey Photo
UPDATE: Paris' rep tells E! News that someone else in Hilton's group was the one in possession of the marijuana. She was questioned but police have since apologized for and dropped the complaint against her.
"I can confirm that the incident was a complete misunderstanding," her rep says. "The case has been dropped against Paris and no charges will be made. The authorities have apologized for wrongfully accusing her since she had nothing to do with the incident. Paris is having an incredible time at the World Cup."
A source tells E! News that the person in question pleaded guilty and was ordered to pay a small fine.
"Everything is fine guys. I had nothing to do with it," Hilton tweeted afterward.
________________________________
Perhaps Paris Hilton should have stuck to tooting her vuvuzela.
The globe-trotting socialite was arrested in the South African town of Port Elizabeth on Friday for allegedly being in possession of marijuana after watching the Netherlands upset Brazil in the World Cup.
Police, not identifying Hilton by name, said that a "high-profile" suspect would be appearing in court today and the heiress did indeed appear briefly at around midnight in a FIFA World Cup courtroom.
Per reports, Hilton was detained outside Nelson Mandela Bay Stadium after the match after police found an unspecified amount of pot on her. (It was also probably after she tweeted, "Had so much fun at the game today. What a match! I love South Africa!")
No word yet on how she caught the authorities' attention.
But, even if she was in the wrong place at the wrong time, with the wrong stuff in her purse, experts tell us it's unlikely she's going to be experiencing her own personal Midnight Express.
"It's not like she'd be thrown in jail," Harold Copus, a former member of the FBI's Drug Enforcement Administration task force, tells E! News. "I don't think she'll be in some horrible prison in South Africa for several years or anything."
Or spend any time in jail, for that matter, Copus said, adding that having cannabis in small quanities is often "overlooked" in South Africa.
Adds criminal defense attorney Alec Rose, Hilton will probably be allowed to post bail and then be released.
"If it's a minor offense, she would likely be released and allowed to hire a local attorney," says Rose. "They would also likely let her travel back to the U.S. provided she sign a document stating she would be responsible if ultimately found to have committed a crime."
"In most Western countries," he continues, "the penalty for having personal use marijuana are pretty small. It could be resolved with a class or a minor fine. She might be able to clear it up before she leaves the country."
—Additional reporting by Whitney English and Claudia Rosenbaum
(Originally published July 2, 2010, at 2:20 p.m. PT)