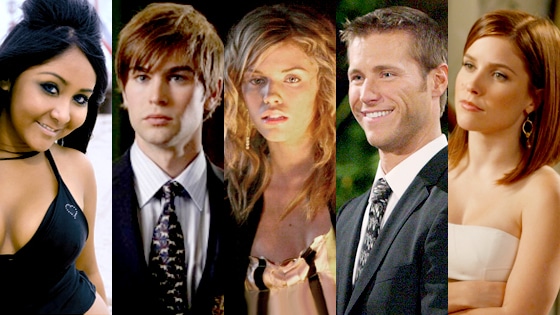 MTV/Scott Gries/Picture Group; Giovanni Rufino/The CW; Jaimie Trueblood/The CW; ABC/Craig Sjodin; Fred Norris/The CW
Psst. Whatcha watching over there? A show about the rich and richer in New York City? Learning about GTL? Is that a Kardashian I spot?
I knew it! And the Tater Awards deserve to know, too! What are you hiding in your DVR? And what show makes you shudder every time you see it on your screen? The only way to know for sure is to vote.
We are nearing the end of E! Online's Annual Tater Top Awards, and not to make you feel guilty, but if you haven't been voting, then how do you expect the winners to really enjoy the Golden Tater we send them? You think this voting is for funsies? Heck, no! This is more important than anything you could possibly think of. Even more important than Justin Bieber. And you have until June 20, so vote. Vote again. And then vote one more time.
Today we are honoring the shows that you almost don't want to admit you watch. And the shows you are flabbergasted as to why they are still popping up on your TV every week. Thanks to all your awesome nominations, we have a fine list of shows to choose from. These votes are anonymous (we won't know you voted for Snooki) and spam free, so click with a light heart and quick hand!
Please Note: On your cell phone, huh? Well, you can't vote yet. But if you come back once you're done texting, we might let you have the chance. Ok, we definitely will. You called our bluff.
Are you superpissed-off that we didn't include your guilty pleasure show? Maybe you think another show needs to get the axe pronto. Your wish is my command, so go to @KristinDSantos or to the comments below and send in last-minute nominations. We'll consider adding them in for Tater glory.
Day 12 Tomorrow! It's gut check time, TV watchers! Tomorrow you'll have the chance to vote for Best Guest Star and Best New Show. So think about which new face lit up your life each week and send in your nominations to @KristinDSantos or to our comments section. We'll see you tomorrow. Bring cupcakes.