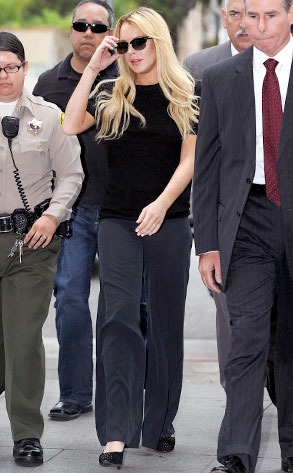 Frazer Harrison/Getty Images
UPDATE: There's good news and bad news for Lindsay Lohan. The good: To keep proceedings as streamlined as possible, the judge said she will not take the conservatively clad star's SCRAM-triggering bail violation into account when deciding whether or not LiLo has violated the terms of her long-standing probation. The judge also shot down Michael Lohan's request to meet privately in chambers, leaving him instead to submit a letter to the court.
The bad: Officials from Right On, the alcohol-education program Lindsay is enrolled in, are taking turns on the stand and painting her attendance as less than exemplary. It's easy as this: If she didn't complete the required number of classes, she'll be found in violation. Their testimony (and our livestream!) will resume at 1:30 p.m. PT, when they return from lunch.
________
What are the two most-feared words in Lindsay Lohan's life?
Probation violation.
Or at least they were this morning, when LiLo, her ever impressed-upon attorney, various members of Team Lohan (hi, Michael!) and a no-nonsense Deputy D.A. convened with the equally excuse-shunning Judge Marsha Revel for a long-coming hearing in Lindsay's DUI case.
And because it's hard to keep track of her indiscretions, here's a refresher: forget anomalous SCRAMs, forget the missing passport, forget scapegoating spray tans and refreshing tea-based beverages. Today's hearing is expected to determine whether Lindsay has been complying with the terms of her original probation (and thus, stay out of jail) by attending weekly alcohol-education classes, passing her random drug tests and otherwise maintaining her best behavior.
Since this is Lindsay we're talking about, things are bound to get interesting. But don't take our word for it—we're streaming the courthouse arrivals and juicy courtroom goings-on all morning, so you can see it for yourself.
(Originally published July 6, 2010 at 8:02 a.m. PT)
________
Confused? Get all the Lindsay backstory you need right here.