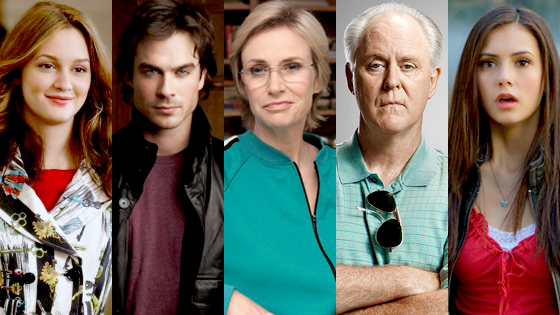 Giovanni Rufino/The CW; Andrew Eccles / The CW; Carin Baer/FOX; David Studarus/Showtime; Alan Markfield / The CW
More important than the Emmys. More golden than the Golden Globes. And all without a dragged-out telecast! E! Online's Annual Tater Tops Awards are here to help you celebrate the TV season in true couch potato fashion. You barely have to lift a finger!
This round, we're finger-saluting the biggest bitches and baddies around. From serial killers to scheming cheer coaches, we've got the best of the be-yotchness from the TV season…
Let's all enjoy a revisit to the most evil of characters in the poll below, because we can't ship out those Golden Taters until we have the winners—so what are you waiting for? You pick your favorite nasties, and we'll make sure to keep the spam fairies from the voting.
Winners will be announced July 20, so nominate and vote your elliptical-machine-toned buns off. What am I saying? We're couch potatoes! Unless there's a TV strapped to the front of that elliptical machine, we stay off it. And there is no shame in that. Enjoy the bitch/baddie fest!
Please Note: If you're reading this via mobile, you won't be able to vote right now. Accept our sincere apologies with a VIP reservation to come back and vote later once you get on a computer. Internet VIP reservations don't exist, you say? Well, then…look over there! A distraction!
By now, you know we accept last-minute nominations if you feel we snubbed a certain bitch or baddie. Let me know right this second on my Twitter, or just leave it in the comments section below. We can add in a nominee if we feel they were truly dissed.
Guess what? More Tater Tops will invade your Internet tomorrow, and the categories will be celebrating those who are no longer with us. That's right: Show You'll Miss the Most and Star You'll Miss the Most. Send in your nominees ASAP by tweeting me or by invading our comments section. Until tomorrow, tater heads!