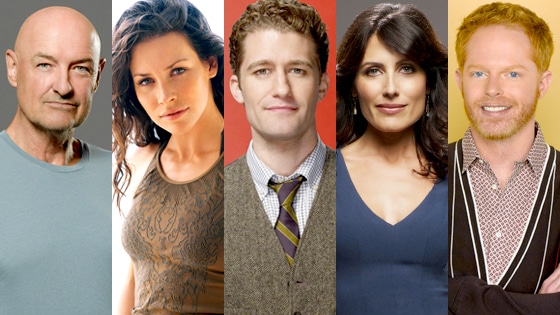 ART STREIBER/ABC; ART STREIBER/ABC; Matthias Clamer / Fox; Florian Schneider/FOX; ABC/BOB D'AMICO
Did you all enjoy celebrating our independence? I know the perfect remedy for that throbbing, patriotic headache—more Tater Tops!
There is a thin line between love and hate, or so they say. And what better represents both sides of that line than a good smack on the lips and a good smack in the face? It's time to honor the face suckers and the nose punchers…
Not only do the winners of the Tater Tops get bragging rights, they get real, honest-to-Zeus trophies that we can only assume they display in front of their less pretty Emmys and Golden Globes. Who needs those when you have a giant tater?
In all seriousness, we know your fave actors and actresses really appreciate these awards because they come from you, the fans. And the appreciation shower will keep on sprinkling over the next two weeks, until the winners are announced July 20. That means you have a whole bunch of time to keep nominating and voting. Check out the nominees for Best Fight and Best Kiss below. You worry about who should take the Golden Tater home, and we'll worry about keeping spammers out. We've got your backs, yo.
Please note: Reading this on your mobile? You can't vote now, but don't sweat it. This awesome poll will still be here once you find a computer. If you don't have one, you should probably go buy one. It's 2010, for Pete's sake.
Did we forget a smackdown or a smooch that you want to see added? Tweet me your last-minute nominee or leave it in the comments below. We here at WWK believe in righting the injustices of the TV world. Now if only we can get Party Down back…
Tomorrow! We'll be honoring the people we loved to hate this past year with Best Baddie and Best Bitch. Keep nominating for your favorite evil peeps via my Twitter or in our comments section. We'll see your lovely faces back here for another roll in the Tater Tops hay.
________
All your Tater Tops action is right here. Don't miss out on all the voting fun!