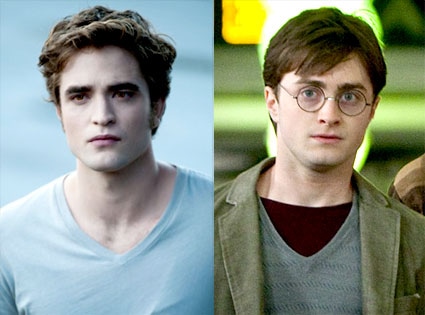 Summit Entertainment; Jaap Buitendijk / Warner Bros. Entertainment
The Twilight and Harry Potter franchises have conquered the entertainment world—and we're def fans of both—but we want to know what you think.
Presenting our Twi-Potter Tournament, a weeklong showdown with daily duels between each series. Today's face-off is the between the leading men:
Edward Cullen: He sparkles! He flies runs fast! He's the lion who fell in love with the lamb! Robert Pattinson's brooding, mind-reading vampire is the tall, pale and handsome type that makes girls swoon.
Harry Potter: He's the Boy Who Lived! Daniel Radcliffe's evil-battling young wizard is a living, breathing human who feels love, joy, pain, anger and sorrow. And with the help of a broom, he can fly, too.
Twi-Potter Tournament: Round 1