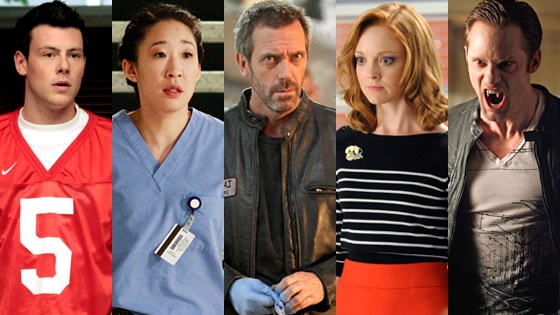 Fox,ABC/Ron Tom, Adam Taylor/FOX, Michael Yarish/Fox, John P. Johnson/HBO
The highlight of your day has arrived! It's another round of voting for the E! Online's annual Tater Top Awards. And this time it's all about the "awww," the "ewww," and the "arghhh," couples of the TV season.
For every Chandler and Monica, there's Joey and Rachel. Meaning, there are couples you are totally on board with, and there are couples that make you want to jump ship (over the shark, of course). Friends reference ftw? Well, at least we have current couples for you to choose from…
As you should know by now after two rounds of nominations, the winner of the Golden Tater is all up to you and your awesome pointing and clicking abilities. This is where you can voice your delight or disdain over the hookups and triangles of the past TV season.
You told us who should be nominated, and we weeded through the crazy amount of votes to give you the best of the best and the best of the worst in fictional couple city. And you can continue to nominate and vote for your favorite moments and characters, so keep on keeping on until the winners are announced on July 20.
Check out the nominees below for Best Couple, Oddest Couple, and Love Triangle You're So Over, and use the mighty power of the Internet to anoint the next recipients of the Golden Tater. And don't worry, we know that robots can be sneaky little ninjas when it comes to these polls. We've got it covered, there will be no cheating in these awards! Scroll down and click away!
Please Note: If you are one of our lovely mobile users, you won't be able to vote right now. Sorry about that, but there is no need to use the vuvuzela app on us. Next time you're at a computer, come back and vote. You are always welcome.
Did we overlook a couple or triangle that will just destroy you if it's not included in the poll? Tweet at me or post in the comments below and we can always undo the injustice!
Remember! Tomorrow we'll post the nominees for Favorite Funnygirl and Favorite Funnyguy. There's still time to get your nominations in. You know where to go: my Twitter or our comments section. Then come back tomorrow to celebrate those who made your ribs ache from laughing so hard.