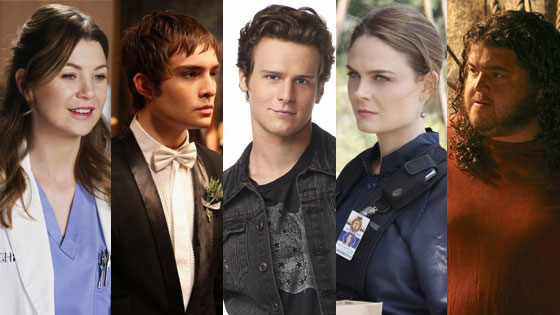 ABC/Ron Tom, Eric Leibowitz/The CW, Patrick Ecclesine/FOX, Greg Gayne/FOX, ABC/Mario Perez
The biggest sporting event in the world may be still going on, but the awards that can separate the boys from the men are right here at WWK.
Well, we separate the Chuck Basses from the Jesse St. Jameses at least. That's right, E! Online's annual Tater Top Awards roll on—giving you the chance to give awards love to your TV favorites. Now prepare for some serious OMG...
Today, you'll be voting for the moment this past TV season that made you shout "omigod!" like teenies at a Jonas Brothers concert...and the scene that made you want to pick up your television and throw it out your window. Like this guy.
The nominations for Best Shocker and Moment That Made You Want to Throw Out Your TV. Nominations were sent in by you guys and counted by us. We love math here at WWK.
You say you don't know the drill by now since voting in the last round? Just scroll on down and check out the nominees in each category. Lots of tough choices to make, I assure you. But someone has to do it! Those Golden Tater trophies aren't going to pick themselves!
And just to ease your minds, we've implemented our handy-dandy anti-robo-voting device which means your Tater Tops Awards results will be sham free!
The Tater Tops Awards continue tomorrow and over the next three weeks, so don't forget to keep nominating and voting until winners are announced on July 20. We know you have a job/kid/plant to worry about, but let's put our priorities in check, people!
Please Note: If you are reading this story via mobile, then aren't you fancy? But seriously, you can't vote just yet. Sorry! Put down the iPhone/Crackberry and find a computer stat so you can vote. That means you, mom.
Did we miss a "WTF?" moment that needs to be up there? Then for the love of all that is Groff tweet at me now or add the nomination in the comments below and we might just include it.
Pay Attention! Tomorrow the categories will be Best Couple and Oddest Couple. And there is still time to get your nominees in! Can you stand the excitement?! You know what to do: Get your last-minute votes in via my Twitter or in our comments section. And tomorrow...more Tater Awards goodness. See you there.
________
Vote in the other Tater Top Award categories right here.