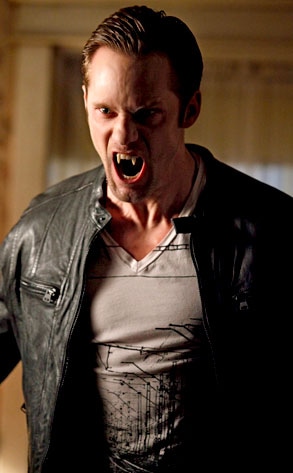 John P. Johnson/HBO
Fangbangin' serial killer? Been there. Orgy-inducing maenad? Done that.
Big Bads in Bon Temps are a dime a dozen, but if you think you've sussed out True Blood's latest candidate—ehhh! (How awesome is my buzzer sound?) Try again.
Sure, Eric's pretty evil (if you count studliness as sin), and the King of Mississippi's got somethin' up his sleeve, and don't even get me started on that rubbernecker Lorena. Still, there's someone else, and his or her dastardly plans might just bring the tiny town to its knees.
So who's True Blood 's latest rotten apple? And which character is next to go vamp? Read on for that, plus the latest scoop on Gossip Girl, The Office and even (sniff) Lost...
Brandon in Devore, Calif.: Do you have any other info on that lost Lost scene?
As a matter of fact, we've confirmed reports from our pal over at PopWrap that the unseen story of Hurley and Ben will be called "The New Man in Charge"—how exciting is that?! The DVD extra will run exactly 11 minutes, 40 seconds long...just enough time to find out what went down between Jacob's reign and the end of our beloved Lost. Also, we'll get the scene on the Season Six DVD and also the complete compilation, so you can drop to your knees and thank whatever deity you like (Jacob?).
Drew in Moorpark, Calif.: Loving that Tater Top Awards is back! It's my highlight of the summer. Can I put in a word for Grey's Anatomy finale for Best Shocker? And Kate and Jack on Lost for Best Kiss?
Soitenly! Make sure you keep checking back each day to vote and nominate right here. We'll be doing a brand-new category or two every weekday for the next thee weeks.
Dalia in Wisconsin: I'm in love with Pretty Little Liars. Please tell me there's hope for more after this season?
Why wait? ABC Family is loving it as much as the fans and just this morning upped the first season episode order to 22—that's 12 more hours of Pretty Little Liars for your viewing pleasure!
Monica in North Carolina: Kristin, thanks for the scoop from Steve Carell himself that he's really leaving The Office. I can't believe he doesn't think it's a huge deal! Did he say what he'd want to do next?
"I'll just travel around the country doing the one man Michael Scott show." Funny how he thinks he's kidding, but I'm going to kidnap him and make him do it. Kathy Bates can help.
Jenna in Indianapolis: Got the goods on the next season of How I Met Your Mother?
Jason Segel is lobbying (pun absolutely intended) for a very specific guest star next season—Marshall and Lily fans, cover your eyes. "[I want] Hillary Clinton," he told us at the Despicable Me premiere Sunday. "I'd have an affair with her." Bwah! What kinda idea is that when there's finally baby talk being thrown around?!
Cody in Fresno, Calif.: I'm hearing good things about FX's new series Louie. What's your take on it?
Think Seinfeld, only darker! Parks and Recreation's Office Dave Louie C.K. is not, but that doesn't mean he's not a hoot. The format of the series takes a little getting used to, but it's part standup (with bleeped out words and everything!), part scripted show acting out the rants Louie is on. The verdict: Tune in and decide for yourself if Louie is your cup o' tea. We're just hoping he heads back to Pawnee to swoop Leslie Knope (Amy Poehler) off her feet again.
George in Michigan: Alright, give it to me straight. What's the deal with Sam's little brother on True Blood?
What, you mean little ol' Tommy? He's harmless—in the sociopath, crazy-person sorta way! Marshall Allman, aka Sam's little bro Tommy, is in it for the long haul this season, and a source tells us he intends on "bringing Bon Temps to its knees." Sounds fun, right? "I go in and have a lot of fun," Marshall tells us. "There's not an impulse that I don't act on. I'm tons of fun. And then I'll take your wallet, [and]  I'll also steal your girl." Yes, we're hearing some girl-stealing is afoot. Any guesses as to which lovely lady Tommy might have on his arm? Hands off Sookie, L.J., or we'll tell your Dad! (A little old-timey Prison Break humor brought to you by Wentworth's abs.)
Julie in Toronto: True Blood, please.
Marshall tells us he'll be around well into the "shocking" season finale, and that even though he'll do some pwetty tewibble things to Bon Temps during his stay (yep, he's moving in!), don't judge too quickly. "People will see that I have a heart, but they're just going to be frustrated that I'm not being who I was meant to be," he says, "I suffered a lot of dysfunction, and I just need a lot of love." Sources have also revealed that Tommy might be working for Sam at Merlotte's soon enough, so watch out for that, 'cause that seems to be where all truly terrible people end up at one time or another. (Note: Hands off Arlene, too, buddy. She's with child.)
Marybeth in Laurel, Md.: Anything good coming up for Tara on True Blood?
That depends on your definition of good. Rutina Wesley tells us our ever-troubled bartender "is gonna struggle with this vampire lover named Franklin Mott. He's very psychological and very hard. So this relationship is not necessarily by choice." Probably not your definition of good, huh? One thing you don't have to worry about? Tara becoming a vamp herself. "Probably not," she says. "I love being human. It's like I'm one of the only humans on the show!"
Neil in Santa Fe, N.M: Please tell me that Holly will be back on The Office next season! Michael needs his other half.
How about I promise that another ex will be back? Is that the same? No? Well, take what you can get because Jan is about to be all up in Dunder Mifflin, er, Sabre next season. "I am going to be back," Melora Hardin happily tells us. "I'm going to be doing a guest-starring thing next year." A guest-starring thing? Perhaps that means more than one episode, but whatever it means, we hope this thing involves another inappropriate baby shower. Also, since we now know Steve is serious about leaving The Office, can we please get Holly Flak back ASAP?!
Justin in Commack, N.Y.: Is there a chance Elizabeth Banks will be returning to 30 Rock this season?
We went straight to the big-time fancy movie star herself for the answer and here's what she had to say: "You would think I'll be back. I am knocked up, for sure by Jack Donaghy on the show so you'll have to wait and see." A vague, non-committal yes? We'll take it!
Mike in Kansas City, Kan.: Any Entourage scoop?
If you're curious about those Ari Gold marital woes, let's break 'em down: Ari's agency is now the biggest thing in Hollywood, thus no time for the wifey. Also, Autumn Reeser is back and doing big things for the company—except Mrs. A only sees her as that girl who slept with the family friend last season and misinterprets her relationship with the big boss man. Any questions?
Gabby in Mississippi: Entourage is back! What's coming up?
Before Scott Caan pops up in fall's crazy good Hawaii Five-0, he'll continue to make E's life miserable on Entourage. And not just 'cause his character is a big bad word." Vince and I get to be friends a little bit," Scott tells us. And yes, jealousy ensues. Secret Life's Megan Park also pops up in Sunday's episode with some not-so-suitable for ABC Family language.
Eddie in Sioux Falls: Hung is my favorite show. Anything juicy to reveal?
Not that these two have ever been the happiest of couples, but Ronnie (Eddie Jemison) and Jessica (Anne Heche) are headed for some tough times this season. Jessica is going to accidentally agree to have a baby with the doc (who does that?!), then attempt to back out of the deal on top of the fact that she has a budding friendship with her ex, Ray (Thomas Jane). How will Ronnie react? "He embarrasses his wife in front of hundreds of people publicly," he reveals, possibly at a sporting event, so keep your eyes peeled!
Eric in Long Island: What is the deal with My Boys?! Is it really over or will it be saved now that Jordana Spiro is out of Love Bites?
Although NBC and the Love Bites producers love Jordana, I'm told her casting on the show was always in second position to TBS' My Boys. So the producers took a risk but knew that if TBS didn't release her from her My Boys contract, they'd have to let her go. I'm told they don't yet know if they'll recast Jordana (it's shot like Love Actually, in vignettes, so her story might just go away or be reshot), and I'm also that there's still a teensy-tiny possibility Jordana will appear on Love Bites in some capacity later on. TBS says they just don't know yet about a fifth season for My Boys since the fourth season hasn't begun airing yet. It premieres July 25.
Jody in Boston, Mass.: Thanks for the story about My Boys returning. It's a favorite of mine! Can you tell us more about this upcoming season?
How about some extreme heart-stopping action scenes? Well, kind of. Unless you think falling down when trying to seduce your onscreen boyfriend is extreme sports. Jordana Spiro sure does: "I would say the biggest challenge I had was I had to do a couple of pratfalls in Christian Louboutin 7-inch heel shoes," she says. "That was a challenge but a really fun one." But...the Louboutins are safe, right?
Leslie in Chicago, Ill.: Super bummed that Jim Gaffigan isn't on this season of My Boys. Please tell me it's still funny without him.
According to the first three episodes back, hell yes! We get to find out how the gang met in a flashback episode, which means seeing P.J., Stephanie (Kellee Stewart), and Brendan (Reid Scott) in straight up '90s college mode. Plus, Rachael Harris joins the cast as a love interest for Mike (Jamie Kaler), and you just can't go wrong with her.
Brynn in New York City: After that 90210 finale, I need a reason to keep watching. Got anything for me?
When we return to West Beverly, Annie and Liam will be fighting those lovey-dovey feelings they've pretty much always had for each other. Liam's over Naomi and all that drama-rama, but Annie's determined to keep a clean conscience and steer clear of whatever happened between the two this summer. I'm guessing hot hookup. You?
Billie in Calif.: Anything on Gossip Girl today?
Former Melrose Place vixen Katie Cassidy is headed way across the country for her next CW gig,  joining the cast of Gossip Girl. And yes, it's true tubers, she is taking the role Chace Crawford promised to someone very important, ahem, me! Yessir, Katie will be Nate's new Columbia co-ed galpal. And per usual with G.G. and K.C., she's got a lil' sumpin' sumpin' up her sleeve that will wreak a little havoc on the gang. Step aside, Georgina!
Lisa in Bridgeton, N.J.: I'm intrigued by USA's new series Covert Affairs. Piper Perabo and Chris Gorham would make a cute couple! Got scoop?
Do I ever! But it will burst your Piper/Chris hookup bubble, so gird your loins. Chris Gorham says that while Auggie "takes Annie under his wing" right from the get-go, the prospect of a romantic pairing is not in the cards for these two. At least not yet. "There's a real connection. And it's definitely a big part of the show," Chris tells us. "I think when they first met, he kind of assumes that they're going to hookup. But the relationship with her for some reason quickly moves past the casual hookup and into a real friendship." Aw, BFF necklaces for everyone!
Richie in Sacramento, Calif.: Rescue Me is back! Please tell me that Tommy lives!
What? You didn't hear that the writers decided to do this season without Denis Leary? Oh, I kid. He's gonna be fine. Well, let me rephrase it. Tommy is going to make it, but I can't promise he'll be fine, per say. Check out his freaky hallucinations after getting shot and make the decision for yourself. Purgatory or just emotional trauma from the shooting?
Trish in Sault Ste. Marie, Ontario: Rescue Me premieres this week and I think we deserve some scoop.
Oh, is that what you think? Do you also think poor Tommy is going to get all kinds of sympathy after his brush with death via gunshot? Nah. Pretty much the whole first episode back is an ode to how much everyone is pissed off at Tommy. Of course, there's also the issue of firehouse 99 being thisclose to getting shut down. Tommy to the rescue? Perhaps.
Teresa in White Plains, N.Y.: Are Jack and Allison finally going to hook up for realz in season four of Eureka?
Um, remember that heartbreaking alternate timeline in Eureka's first-season finale when Sheriff Jack Carter (Colin Ferguson) and Allison (Salli Richardson-Wakefield) were married with a baby on board? The opening of season four involves another Jack and Allison time-travel hookup. This time they both remember their encounter, but as usual (sniff) circumstances conspire against them—and everyone else involved in their blast to the past. As new castmember James Callis (Battlestar Galactica) told us, "It's a reset button for this series...it's exactly the same and everything's different. Everybody in the show now has things that they can't quite cope with." At least Jo and Fargo finally got the promotions they deserve (and how!).
Marc in San Diego: Any details on the new season of Warehouse 13?
Like Eureka, time travel is also the theme (it is Syfy, after all!) of Warehouse 13's second-season premiere. Instead of retrieving an artifact, the team is after a person: original time-traveler H.G. Wells (Dexter's Jaime Murray). She (it is Syfy, after all!) has been released from the Warehouse by Artie's (Saul Rubinek) nemesis, MacPherson (Roger Rees). Will they ever defeat this guy? Yes. Soon. The beautiful Wells, however, will probably be back to torment the agents.
Allison in Cleveland, Ohio: Friday Night Lights scoop, if you please.
Coach Taylor is on the wrong side of the tracks in this week's episode. After a dangerous altercation that leaves you screaming at your TV for Eric's safety (not that I did that or anything), he decides to get a sketchy park cleaned up. And Kyle Chandler continues to be awesome as he deals with the whole Tami/Glenn kiss sitch. Hilariously awkward scenes FTW!
Mitch in Oklahoma City, Okla.: What kind of drama is coming up on Friday Night Lights?
Besides all the football drama week in and week out, you mean? During the next episode alone: Someone is pregnant. A couple is getting a divorce. Someone gets a new job. And someone meets and makes out with a new dude.
—Additional reporting by Drusilla Moorhouse, Jenna Mullins, Megan Masters and Tierney Bricker