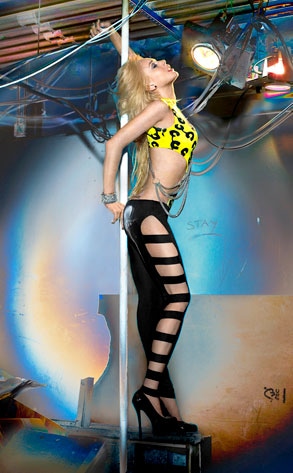 Markus Klinko & Indrani, styling by GK Reid
You'd think after Lindsay Lohan was majorly late to a shoot with photography team Markus Klinko and Indrani, the duo would be done working with the embattled starlet.
Not exactly…
"We're very open to working with her," Klinko told me this morning. "We're not angry with her. We just don't understand why she said that."
He's referring to what Lohan said after the drama surrounding the shoot, which was for her own 6126 fashion line. The situation featured on last week's episode of Klinko and Indrani's new Bravo reality show, Double Exposure. Lohan has accused the cable network and others involved with the series of purposely giving her the wrong calltime to make her look bad.
"I was really upset by her take on things," Indrani said. "It was very upsetting to feel like she's saying that we lied, which we absolutely did not at all. Quite the contrary. We hung in there for her and I feel like it would be nice if she appreciated that a little bit because we've been there for her completely."
So how much could Lohan's tardiness possibly cost? Klinko said a similar project would usually run between $150,000 to $200,000. "Not specific to this shoot, but in general, we basically could be in a situation where $150,000 gets added to the budget," he said.
More of LiLo's shoot will be shown tomorrow on the third episode of Double Exposure. Klinko and Indrani declined to reveal too many details, but said Lohan is shown talking about, among other things, her sexuality. "I think everybody's going to sit there with their mouths open," Klinko said. "It's pretty jaw-dropping."
Indrani added, "She really opens up about a lot of things."
Which brings us to the reports that Indrani and Lohan's relationship was once romantic. When asked about the rumors, Indrani simply said, "You'll have to watch and see."
Double Exposure may not be Linds' final dealings with reality television, either. The New York Post reports that her mom Dina is developing a reality series about the family. "I want to prove that we are a good, hardworking family and we don't have the crazy lives that some people claim we do," Dina told the newspaper. "The show will feature my kids, and Lindsay will also appear in some episodes, although she's very busy filming and promoting her fashion lines."
Back in 2008, E! aired nine episodes of Living Lohan, a reality show about Dina's attempt to launch daughter Ali's singing career.