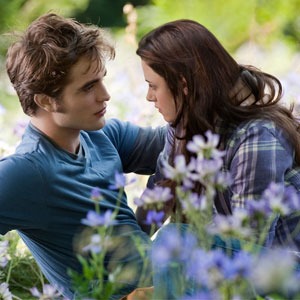 Kimberley French/Summit Entertainment
Robert Pattinson thinks Miley Cyrus needs to see Eclipse. Taylor Lautner hopes the former Hannah Montana star digs werewolves. And Kristen Stewart is cool with Cyrus not liking vampires.
So what do Stephenie Meyer and some of the other Twi-stars think about Miley's public declaration that she hates our favorite kind of bloodsucking dead people? Read on to find out…
Stephenie Meyer: "I didn't like vampires before I started writing about them. I was so not into vampires. Maybe it will come to her when she's 30 like it did for me."
Peter Facinelli: "I'm not necessarily a huge vampire fan, but I do love the books that Stephenie Meyer created. I love that you don't see fangs. It's not a horror movie by any means."
Elizabeth Reaser: "I've always been a fan of vampires since I was a little girl. I loved all the Anne Rice books. Maybe Miley's resisting. Maybe they're so popular now that it's annoying or she's sick of seeing us."
Kellan Lutz: "She hasn't met me then. I would change her opinion on that, I'm sure. I have my ways."
Ashley Greene: "That's so unfortunate because I love her new songs…I'm going to sit Miley down and force her to watch Twilight."
And, Wolf-packer Alex Meraz adds: "Tell her she might like it 'doggy' style."