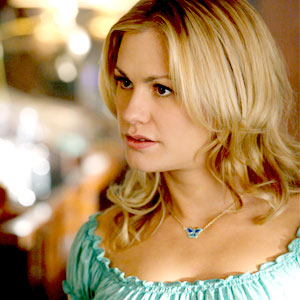 John P. Johnson/HBO
Don't read this if you haven't seen the lastest episode of True Blood.
And if you have, may I offer you a a Brillo pad to scrub out your brain? 'Cause I think I speak for fans everywhere when I say...ick!
After tonight's stomach-churning, head-spinning (sorry) sexual twist (again, sorry)—the shocking scene that Stephen Moyer called a "watercooler moment for the next 20 years"—I'm sure many of you fellow fans don't think you'll never be able to look at a certain True Blood star the same again.
Well I spoke to that star (not pictured with this story—'cause that would be too spoilery) and she wants you to know:
Mariana Klaveno, aka Bill's sexual twist partner Lorena, is actually delightful and sweet in person...so much so that she's still reeling from the scene herself! When asked about it (arguably television's most shocking sex scene of all time), Mariana admits filming it "was kind of uncomfortable."
(Check out my video interview with Mariana right here...)
"[That scene] was actually the most shocking thing that I've ever read in a television script," Mariana says. "My jaw dropped on the floor when I read it and thought, Oh my god, I actually have to do that?!"
And that she did! But not without some words of wisdom from Alan Ball and the True Blood Powers That Be—well, sort of.
"[They said], 'Here's your script, pray that your parents will be OK when they watch this episode. They may not want to.' It was a little uncomfortable, but we got through it. I'm working with the best people from the writers to the producers to the other actors, and at the end of the day, I'd rather be on a show that's provocative and pushes the envelope than one that doesn't."
With all the hype around the smokin' hot Eric (Alexander Skarsgård) and Sookie (Anna Paquin) this season, might Bill (Stephen Moyer) actually fall back in love with the evil one?! Could Bill and Sookie really be over? Mariana is coy, but says this: "You see some new dynamics in our relationship, and maybe a little bit more of the past—maybe some changes in our relationship as well."
And for what it's worth, I'm hearing we might actually—gasp!—like the character of Lorena by season's end. There's more to this lady than meets the eye.
"Everybody hates me!," Mariana tells me playfully. "I'll take it as a compliment. I'm acting! It's not me in real life, I promise. I'm actually, normally a nice person. I do love playing her. She's a delicious character to play."
Now I'm dying to know, what the heck did you guys think of this icktastic scene? Were you digging it, or was it just too bile-inducing to stomach?
Be sure to follow me @kristindsantos on Twitter for loads of True Blood scoop.
________
And for more fangbangin' love, peek in out Snapped on Set: TV gallery for an interesting shot of Bill and Eric from the True Blood finale.