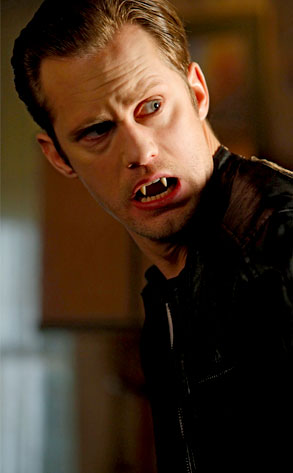 John P. Johnson/HBO
Dear Ted:
I am a huge True Blood and Alexander Skarsgård fan, but your post a few months back about his Lady Gaga "fat" comments makes me think he isn't as pretty on the inside as he is on the outside. Was his douchiness an isolated incident, or is he a beautiful, hunky diva?
—Izzy
Dear The Constant Skarsgårdener:
Truth to tell, I don't know what got him being such a tool back then. Both Taryn Ryder and I can attest that Alex is as delightful as they come, and quite the sweetheart. We all have our douchebag days, right?
Dear Ted:
I read that Jake Gyllenhaal turned down the Jake Sully role in Avatar to do Prince of Persia. Is this true, and if so, what the hell was he thinking?! James Cameron surely trumps any Disney film that doesn't have Johnny Depp making a poor script great!
—Leets
Dear Baad Move:
Yep, it's true. Look, we love Jakey, but lately, the guy takes on movie roles that, quite frankly, suck. And trust, when you ask what the hell he was thinking, we're askin' the same thing, babe.
Dear Ted:
What do you think of Orlando Bloom's engagement?
—Meg