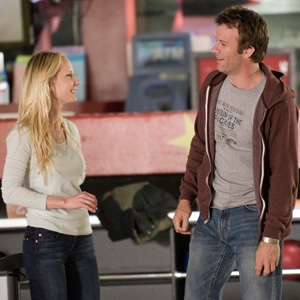 Lacey Terrell/HBO
Before you get all tangled up in the hotness that is Thomas Jane and his sexy HBO series Hung, there are a few things we need to tell you.
Five to be exact, including some spoilery fun that involves a rekindled romance between exes, a bitchin' bitchfight between, um, managers and more...
1) Reunited And It Feels So Good. Will Ray and Jessica (Anne Heche) finally get back together, thus ending Hung altogether?! Doubtful, but season two is centered on the budding re-relationship of these unhappy exes. "That is something that we play quite a bit this season—will they possibly get back together?" show runner Dmitry Lipkin explains. Adds Thomas: "Ray's still in love with his ex-wife. God, what a terrible position to be in." After watching the first few episodes, it's not so bad. The two are hangin' out, bowling together and—gasp!—even getting along. For poor Ronnie (Eddie Jemison), this doesn't bode well. "Ronnie just tries a really feeble confrontation," Eddie says of his character's reaction to the friendship. "He sulks and takes it out on Jessica."
2) The Kids Aren't Alright. For Darby and Damon, things are a little, shall we say, iffy this year. Says Sianoa Smit-McPhee: "Darby is just trying to find out who she is. And Damon is trying to connect with Darby more, but she's just pushing him away still. Jessica is still trying to get in and hang out with Darby and Damon all the time, too." From what we've seen, Darby heads to some darkish places—and Damon heads to a sexy one. "Damon has a lot of new experiences, new friendships, some good some bad," Charlie Saxton tells us. "There are some really awkward experiences. You could say [sexual], but I can't confirm nor deny."
3) Pimpin' Ain't Easy: Jane Adams is giddy over Tonya's new venture this season: actual, real-life pimpdom. "Tonya [becomes] a little bit involved with a real, professional, more experienced" professional, she tells us. Adds Rebecca Creskoff (Lenore): "Tanya tries to use some of his more street smart pimpy moves," including a plan to get Ray to sex it up with another dude! Stay tuned to see how that pans out.
4) Can You Say Catfight? Will Lenore and Tonya see eye-to-eye on the prostitution biz this season? Hell to the no. "It just gets worse and worse and worse, it's ridiculous," says Rebecca. "Tonya does some stuff back to Lenore that's just outrageous. We battle it out pretty hardcore, and Tonya gives Lenore a run for her money."
5) Secrets Revealed? Someone might actually find out about Ray's, ahem, extracurricular activities this season. "Let's put it this way," says Gregg Henry (Coach Mike), "it's baseball season and there does come a time when Mike has to pinch hit." Ponder that.
Hung premieres this Sunday, June 27 at 10 p.m. on HBO.
Be sure to follow @kristindsantos on Twitter.
________
For more HBO fun, peruse of True Blood premiere photos.