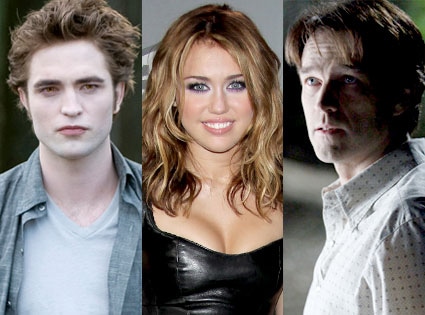 Kimberley French/Summit Entertainment; George Pimentel/WireImage.com; John P. Johnson/HBO
Thank goodness Miley Cyrus isn't on Twitter anymore. If she was, she'd probably be hearing from a lot angry of Twilight fans, just like Emma Roberts did when she announced she was Team Jacob.
What's up with Miley? Read on to find out what she recently told us...
Cyrus makes no bones about it. "I hate vampires," she says.
So no Edward and Bella for her. But what about the more risqué, not-very-tame True Blood?
Probably not gonna happen, either.
"What channel is that on?" she asks when we urge her to check out the hit bloodsucking HBO show.
"We don't have HBO," she said, adding that her mom only gets "about 10 channels" at their house. "So we don't watch a lot of TV. We don't know what's on. All we have is like the Disney Channel and Nick at Nite because my sister is only 10 years old."
Again, we tell her to give Anna Paquin, Stephen Moyer and the gang a chance.
"I'll think about it," she said. "I'll have to YouTube it or something."
Or, she added with a laugh, "You can send me the DVDs."
P.S. Make sure to keep coming back to E! Online today and late into the night. We're gonna be all over the Eclipse premiere.