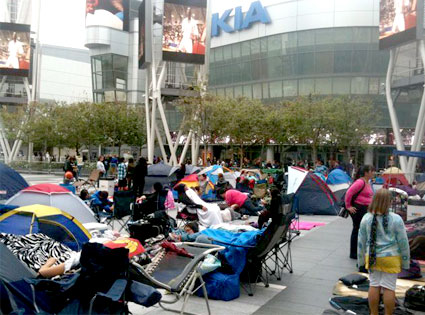 Twitter
It's almost that time again!
The world premiere of Eclipse is on Thursday, June 24 here in Los Angeles. And the Lakers victory parade had nada on the dedicated Twi-hards.
Team Jacob and Team Edward supporters have joined forces—for the moment—and have been camping out since 6 a.m. yesterday at LA Live to ensure they get the best possible spot to watch Robert Pattinson, Kristen Stewart, Taylor Lautner and the rest of the vampy gang tackle the red carpet in two days.
And you avid fans are getting us that much more excited for everything we here at the AT have in store for you on Thursday. Here's what to expect:
We're going to have the entire day covered, starting on the red carpet (which will be streaming live here on E! Online at 8 p.m. ET/5 PT) where we will be tweeting our thumbs off giving you all the "who has arrived with who?" dirt and snippets from our interviews with the cast. And don't you worry, we have our eyes and ears at the screening and after-party as well, natch.
In the meantime, why don't you take a look back at some of our highlights from the Twilight and New Moon premiere.
What are your predictions when the gang hits the carpet this time around?
We certainly are hoping for a cutesy Robsten photo-op together...which didn't happen once at the LA premiere for New Moon, but we bet Taylor will naturally be on one side of K. Shocker, huh?
Best dressed for the gals will be a toss up between Kristen and Ashley Greene per usual, but with the way Stewart has been looking on her promo tour across the pond we think Bella might take the couture honors.
As for dates, well, Rob and Kristen are conveniently good to go in that area so we assume some of their family members have secured their plus-ones. We say highly-likely that Annalynne McCord makes a solo appearance on the carpet (but Kellan Lutz and Ashley will arrive together like last time), and Jennie Garth will obviously accompany her deelish hubby Peter Facinelli.
And on second thought, maybe Taylor will finally stop acting like K.Stew's ab-perfect appendage for the premiere and escort, instead, somebody he's been hanging at some private LA parties with lately? Hmm.
So what other fun stuff are we forgetting? Get yourself pumped and chime in below!