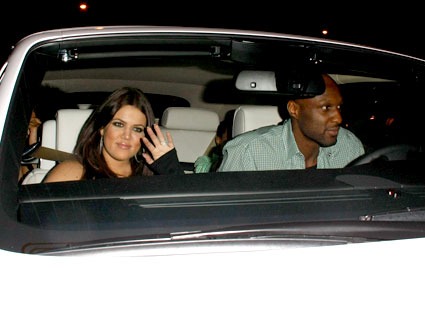 RHS/WENN.com
While Scott Disick just bought baby Mason his first Lamborghini, E! News has learned Khloé Kardashian Odom also bought her man Lamar Odom a brand-new Rolls Royce as a present for his Lakers champsionship win.
Kris Jenner tells E! exclusively the details of the extravagant gift...
"It's a brand new 2010 Rolls Royce...drop-top coupe, white on white," says Jenner. "It was a Lakers championship present. Fabulous!"
Odom was spotted rolling in his new ride last night after dinner with his wife, kids and the rest of the Kardashian clan at Boa on Sunset.
The car retails for around $400,000. Now, the pressure is on Lamar as Khloé's birthday approaches.
Wonder what the basketball star will do for his lady? It'll be hard to beat a gift like that. But it sounds like the two will start with a little trip.
While attending the Lakers celebratory parade, a very happy Lamar shared their excitement about an upcoming getaway to Mexico to relax after a long season.