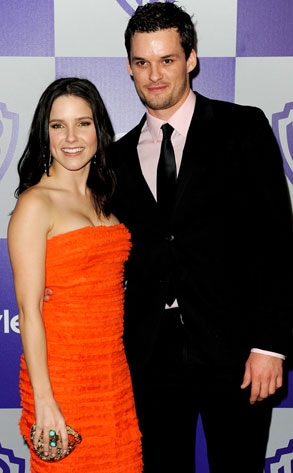 Kevork Djansezian/Getty Images
Finally! Aside from that sexy Ian Somerhalder, we've been shocked at the lack of celebrity outcry about everything terrible that is happening down in the Gulf right now, to humans and sea creatures alike.
Larry King has called in some celebrity troops to help with a telethon tonight, but in comparison to, say, Haiti (obviously a valid cause), Hollywood hasn't exactly been quick to rally and do something about the terrible effects of BP's "mistake."
Enter Sophia Bush and Austin Nichols...
The happy couple are not so happy about the situation down south.
The two babes have been all over Twitter, trying to boost awareness about the level of devastation. Sophia and Austin are each trying to get 50,000 followers to make a big donation to Global Green. The two have already made several donations to the charity on their own and are in Grand Isle, La., as we type with Global Green's Mathew Peterson.
The only thing that would make their trip even better would be if Jake Gyllenhaal came along. Sophia and Jake were supposedly seen dining together at Pizzeria Mozza in L.A. Friday night, and three celebs are always better than one! How come J.G. didn't go along for the ride?
Oh well. Maybe next time? And be sure to tune into CNN tonight at 8 to watch Cameron Diaz, Justin Bieber and other Hollywood power players raise money for the Gulf.
Click here to donate, and don't forget to follow Sophia and Austin on Twitter and rally behind them!
Love Ted? Follow @theawfultruth on Twitter.
_______
See how the celebs are lending a hand to Haiti in our gallery.