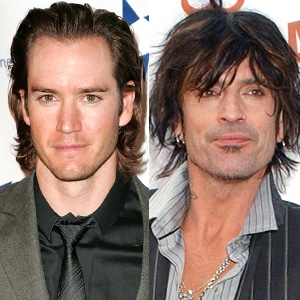 Jason LeVeris/FilmMagic, Gregg DeGuire/WireImage.com
Oh, Nancy Botwin, you lucky girl.
Showtime sources have exclusively confirmed to me that Mark-Paul Gosselaar will be joining his three names with Mary-Louise Parker's three names for an unforgettable multihyphenate hookup on Weeds (hurrah!), while Tommy Lee is coming to Californication in all his tattooed glory.
Here's the scoop:
Gosselaar will star in one episode of Weeds as Jack, a rough-around-the-edges local bar owner who serves Nancy more than just a drink (wink, wink). The sixth season premieres Aug. 16 at 10 p.m. on Showtime, and you might want to keep your drool cloth standing by.
And Nancy isn't the only one walking into a bar. (Ba-dum-bump.) In the shocker of all shockers (read: sarcasm), David Duchovny's character Hank will be throwing back a few in the new season of Californication (premiere date TBD), and will encounter the infamous Tommy Lee, who'll be singing at the hotel bar.
The biggest question: Can Mark-Paul survive any sort of flirtation with Nancy Botwin without her baby daddy Esteban busting a cap in him? We'll have to wait until Aug. 16…which can't come soon enough.
________
Follow me on Twitter @kristindsantos.