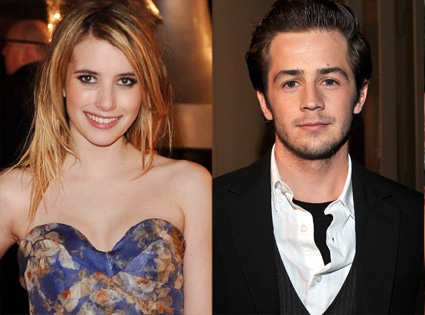 Ash Knotek/Zuma Press; Lester Cohen/WireImage.com
You Team Edward fans can be so cruel!
After Emma Roberts told Robert Pattinson she was Team Jacob on The Tonight Show, the poor babe has been run off Twitter by all the haters out there.
While we thought the comment was pretty funny, mainly due to Rob's reaction back to her, it's so obvious what's really going on here:
There's probably much more to that little Edward jab—and his name is Michael Angarano. Remember him, Kristen Stewart's ex boyfriend?
Stewart and Michael dated when Twilight was first being filmed and were very on-off until Kristen decided she wanted to be totally on with Pattinson.
While we hear Kristen and Michael remain friendly, but aren't exactly besties, Angarano has found himself another gal to pal around with in the meantime: Roberts.
But don't worry, before Emma was run off Twitter, she had only nice things to tweet about R.P.:
"Rob Pattinson is so nice! I was slightly disappointed his skin wasn't glittering & the song Wild Thing didn't start when he shook my hand."
Still, doesn't stop us from wondering if there is something up between E.R. and M.A. Emma and Michael recently worked together on the film Homework and have been rumored to be possibly more than friends.
The two have been spotted all over L.A., lunching together at Joan's on Third, having some very friendly looking Starbucks runs, and most recently were out together (and left together with a group of friends) at Las Palmas for Katy Perry's after party last weekend.
Roberts was last known to be dating UCLA cutie Dathan Kuppin, but the two haven't been seen out together recently, and some outlets are quoting Emma as saying she's single.
So, could Michael and Emma be more than costars, Robsten-style? Or maybe they're just super good friends, which obviously can happen when you film together too.
Either way, we think the whole Team Jacob comment could be a little bit about sticking up for her pal M.A., who was totally left in the dust when Stewart chose Rob.
A rep for Emma Roberts says she and Michael "are friends."
Well, good to stand by on old pal, ya?