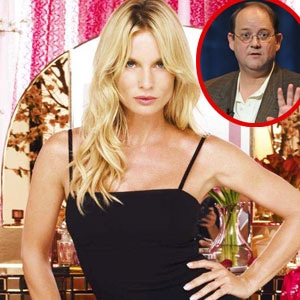 UPDATE: ABC's counsel is looking to take Sheridan's videotaped deposition as soon as possible and has filed requests to look at all of her documents pertaining to the lawsuit, according to the Hollywood Reporter.
"We have served subpoenas and are vigorously moving forward with our defense," litigator Adam Levin said.
___________________________
Well, this is interesting.
That wallop upside the head Nicollette Sheridan claimed to have received from Desperate Housewives creator Marc Cherry? Turns out it was more of a "light tap."
So is this a case of furious backpedaling? If not, what gives?
First, a refresher: It was just two months ago that the former prime-timer filed a $20 million lawsuit against Cherry, alleging wrongful termination and assault, claiming that in 2008 the show's mastermind "took her aside and forcefully hit her with his hand across her face and head."
Pretty serious allegations, and ones you'd think you'd make sure were accurate before rolling through the legal system. As a result, Sheridan's former costars, the network and various other insiders were quickly forced to take sides (let's just say people weren't exactly clamoring to join Team Nicollette). And then things got quiet.
Until now.
Emerging today is an amendment Sheridan filed on May 20 that backs way off of her initial claims, stating that the altercation didn't so much entail a forceful blow, but instead "a light tap on the side of the head."
The new paperwork, which features just two new paragraphs while retaining her seven claims against Cherry and the network, also details ABC's response to the purported incident and supposed motives behind killing off her character from the show.
"In December 2008, Sheridan was informed that ABC had fully investigated her complaint and had concluded that she was not mistreated. In fact, the Executive Vice President of ABC Studios, Howard Davine, claimed that 'Marc simply gave her a light tap on the side of her head for the sole purpose of providing direction for a scene they were rehearsing,' " the amended complaint reads. (Stop us when this starts sounding familiar.)
"With that, ABC decided to take no further action and closed the investigation, informing Sheridan that 'we will finish off the season in the spirit of professionalism and courtesy that has been the normal course for Desperate Housewives.' "
Her second tweak to the original document claims that the "spirit of professionalism and courtesy" flew out the window when she was informed two months later, in February 2009, that her character was headed for that big syndication in the sky.
"She was to film her final episode the last week of February 2009 and first week of March. Sheridan was given a strict publicity plan to follow to 'break the story' that her character Edie Britt was leaving the Show."
It's unclear why Sheridan filed the amended complaint. She has yet to explain herself or issue a comment on the filing. ABC has refused to comment, and Cherry has so far remained equally silent on the latest development.
—Additional reporting by Ashley Fultz