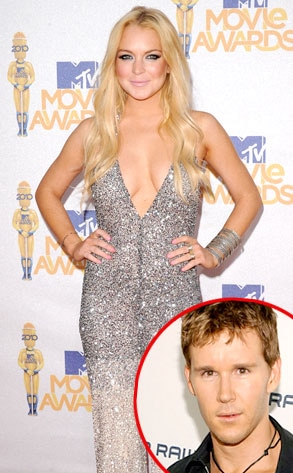 Jason Merritt/Getty Images; Dimitrios Kambouris/WireImage
Lindsay Lohan can drink all the True Blood she wants, but it doesn't sound like the hit HBO series is very interested in having her on the show.
"Not in the forseeable future," Ryan Kwanten told E! last night at Sony Playstation's Move Lounge when asked whether Linds could be a guest star.
Ouch! Just last night, LL was counting down to the season three premiere on her Twitter and even celebrating with a True Blood themed ice cream cake.
But then he sort of backpedaled when we inquired if she could play a blood-sucking vamp...
"Yeah, she could be a whole bunch of different things," he hedged. "I'm not one to specify."
At least we all know LL has no problem with getting naked, which is a major requirement for the cast. Ryan has no qualms about dropping trou, either.
"To be honest, no, I never get nervous about it," he told E!. "The fact that it never comes from a point of pure gratuity makes me feel better. It's always from a story point; it's never nudity for nudity's sake."
Whatever you say, Ryan! As long as you and your hot cast keep stripping down on screen, we have no complaints.
—Reporting by Dan Wally