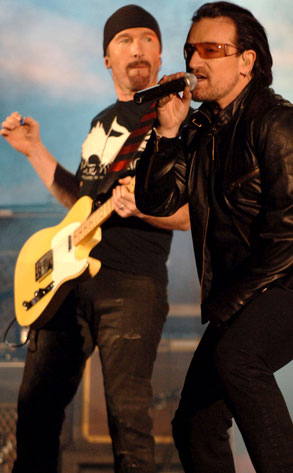 Kevin Mazur/WireImage.com
Good news. Bono is back on his feet.
The U2 singer stepped out in public for the first time since last month's emergency spinal surgery that led to the scuttling of the band's upcoming 360-Degree Tour.
Bono, who hit the big 5-0 last month, was spotted in the ancient Mediterranean village of Eze sur Mer along the French Riviera, where he's been recuperating at a posh villa he owns there. According to the U.K.'s Daily Mirror, Bono drove himself to a lunch date at the Hotel La Voile d'Or in Saint-Jean-Cap-Ferrat before meeting some friends later.
The Rock and Roll Hall of Famer suffered a back injury during rehearsals in Munich. According to his neurosurgeon, temporary partial paralysis had already occurred in his lower leg and could've become permanent had the problem not been corrected during the emergency procedure.
His prognosis for a full recovery is said to be "excellent," and with at least two months of physical rehabilitation, doctors say he should be ready to hit the stage again.
"I was joking earlier on that this is probably the most rest he'll have in decades, you know the few weeks after the operation," said The Edge in a video post on U2.com. "But the other thing we have to make sure is that he does follow the doctor's orders in terms of the program of rehabilitation because knowing him again he'll probably want to take some short cuts and sort of get ahead of himself.
"But really from what I understand it's very important he does this in a very methodical way."So we'll be there to chain him down if need be."
Bono's injury also forced U2 to scrap a headlining gig at the 40th anniversary of the U.K.'s legendary Glastonbury Festival, for which the group had written a commemorative song. Gorillaz will serve as the replacement band.
If all goes well, Bono and bandmates plans to begin rehearsals in August before relaunching their stadium trek. The rockers will also put the finishing touches on their next album.
________
While Bono rests up, other celebs have taken up the slack in our Do-Gooder Gallery.