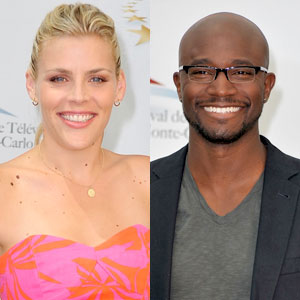 Pascal Le Segretain/Getty Images
Give the girl credit: Busy Phillips has some mighty fine taste in men.
Actually, it's her Cougar Town character Laurie who's in love with Private Practice's Taye Diggs, but guess what? The feeling is totally mutual, and when we caught up with the übertalented twosome at the Monte Carlo Film Festival today, they spilled all the dirty deets on their faux crossover plans. Hells to the yes! Busy also told us what's up with the possible title change for her show...
Yo, Bill Lawrence, how about making that framed picture of Taye next to Laurie's bed come to life in season two...Taye's down with it!
"I didn't know that," he laughed when we revealed the Cougar connection to him. "But I had dinner with [Busy] last night and told her I have TiVoed the entire season."
How's that for coincidence? Taye told us he hadn't been approached to guest on Cougar Town yet, but is "a fan of the show" and "would love to be on it. I don't know if it's possible with scheduling, but I'd love it."
When we caught up with Busy, she gushed at the idea. "It would be amazing if Taye came on the show," she said. "He's such an incredible actor and such a nice, nice guy."
The question is, will there still be a Cougar Town for Taye to guest on? Obviously, the ABC hit has been picked up for more, but those name change rumors are still running rampant—and Busy says they are true.
"It's true, Bill Lawrence and Courteney Cox are talking about it," Busy told us, "and I know that Stephen McPherson, who runs ABC, has said whatever they decide to do he's on board with."
Busy continued: "They just feel like the name Cougar Town is not indicative of what the show became at the end of the series, and I agree with them." Ditto that! "I don't know what changing the title will do—maybe open it up to a whole new audience?"
A new audience better be down with the same ol' Laurie, because Busy revealed some season two secrets about her alterna-self.
"Laurie got a serious boyfriend and she's going to continue with her serious relationship," Busy explained. "But I have a feeling she's going to feel too hemmed in and she'll have to go a little crazy again. She and Jules are going to have to have a real pow-wow about the fact that Laurie slept with Grayson early in the season."
Watch out. Courteney is kind of a badass. "I am not looking forward to that," Busy teased. "I like Courteney, and I don't want to have to fight with her."
Join our Taye Diggs to Cougar Town campaign by sounding off in the comments section...you know you want to!
--Reporting by Lisa Abdolian
Be sure to follow @KristinDSantos on Twitter.
________
Busy's crush on Taye is of the TV variety, but take a peek at some real Kissing Costars.