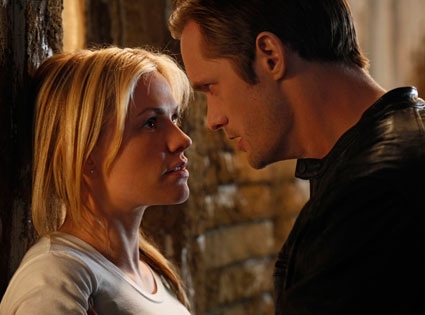 John P. Johnson / HBO
Anybody else counting the minutes til Vampire Porn returns?
Or, wait. What 's its real name? Oh right, True Blood.  And having just watched the first batch of fangtastic episodes of the third season—which starts this Sunday on HBO—I can tell you: The Vamp-Porn is back, baby! In fact, this season has more eye-popping and jaw-dropping sex scenes than ever before. And you fans know, that's sayin' something.
So who's doing the dirty? And what else can you expect? Put the kiddies to bed and read on  for scoop on True Blood, Glee, Dexter and more...
Randall: I saw on Twitter that you got the first few episodes of True Blood. Please let us know what you think!
I think I'm so very grateful for Alan Ball and his cast and crew right now, because the next few months of TV would be looking so bleak if not for this Sunday's return of TB. It's just as gripping and shocking and hilarious as before, and you can keep reading for more juice! Also, I'm going to be interviewing the entire True Blood cast tomorrow night at the show's premiere party in Hollywood, so please help me out with some good questions by tweeting them to me @kristindsantos!
Wendell: What's the word on True Blood? Are Sookie and Bill really over?
They're so not in a happy place. But one of them will be in a sexy place. Here's what I can tell you about the first three episodes: Either Bill or Sookie has sex with someone, and it is hands-down the most unforgettable (you will have dreams/nightmares afterward!) sex scene in the entire run of True Blood so far. Here's what else you can expect from the first three episodes:
Someone tries to commit suicide.
Someone tries to kill a sibling.
Someone loses his head.
Someone is pregnant.
Someone has a one night stand--and it's the last person you'd expect.
Someone has an underground sex marathon--and it's the first person you'd expect.
There are more bare backsides than a gym locker room, and one belongs to one Mr. Alexander Skaarsgård. This just in from Alan Ball: You're welcome.
Dimitrios Kambouris/WireImage.com
Brett in Los Angeles: Any scoop on Dexter?
Just caught up with the always amazing Jennifer Carpenter (F--kin' Deb!) so stand by for that. In the meantime, Showtime has confirmed that Julia Stiles will guest star in 10 episodes this season, as "a mysterious young woman who forms a unique relationship with Dexter (Michael C. Hall) in the wake of the death of his wife." You have it all figured out what she's playing, right? 'Cause this show is so predictable. (Eyeroll.)
Vicki in Orlando, Fla.: I'm hearing great things about Memphis Beat. Can you tell me anything about it?
We love Jason Lee, and we think everyone else will love him in this cop series that doubles as a love letter to Memphis. You also get to see Jason man a microphone, which should be enough reason to check out the pilot, airing June 22.
Boyd in Maui: Any word on whether or not Joshua Jackson will really guest star on Vampire Diaries?
Not yet, but another Dawson's alum has enlisted my help in securing a spot on Vampire Diaries, and this time Life Unexpected's Kerr Smith is the culprit. "When you interview Kevin today, will you ask him?," he asked me at The CW Upfronts. "I would love to play a vampire!" Hope Kev's taking notes!
Yasmine: Do you have anything more to say about the Lost finale?
Just that according to you all, it was the best and worst finale of the TV season! Not surprising, given the intense reaction so many of you had to it. Whether you loved it or hated it, it was certainly by my account the event of the TV season. (We have a reporter meeting up with Jorge Garcia this week in Monte Carlo, so if you have questions for him, holler.) Also, you guys loved Grey's Anatomy finale, because it was crazy good and you guys have excellent taste! And ditto Vampire Diaries. Here's the final rundown of what you crowned the best and worst season finales:
BEST SEASON FINALES TOP FIVE
1. Lost 20.7%
2. Grey's Anatomy 17.4%
3. The Vampire Diaries 8.5%
4. Chuck 8.4%
5. Fringe 6.1%
WORST SEASON FINALES TOP FIVE
1. Lost 12.7%
2. 90210 9.0%
3. The Office 8.9%
4. Bones 5.5%
5. V 5.0%
Karen in Madison, Wis.: Any word on Cougar Town changing its name?
Bill Lawrence hasn't made an official statement, but Courteney Cox is weighing in with a big fat no. Says one of our favorite Friends: "At this point, I don't think so." Her hubby David Arquette had a good suggestion to fix the name fiasco, though. "Maybe they'll do a 'C.T.' [abbreviation] thing—like KFC!" Brills!
James in New Jersey: I love seeing Amy Poehler and Will Arnett working together! Any chance she'll pop up on his new Fox show?
As a matter of fact, we just asked Amy if there'd be any Running Wilde in her future, and while she assured us she's just focusing on her baby-to-be for now, she's not saying no. "We never rule it out," she explained, "but for now we're both going to be working on our own shows. But I'm such a huge fan of Mitch and Will and the whole show...so anything they want me to do!"
Katie in Chicago: I'm not ready for the end of Glee, but do you have some scoop on next season to help me get through the summer?
Sure. Will Schuester is pregnant! *Gasp* But who is the father? "Coach Tanaka!" Matthew Morrison joked to our own Ryan Seacrest on his radio show. All kidding aside, Matthew unfortunately plays dumb on next season: "They're writing the first script back right now and we have no idea what's going on." However, he does give "maybe's" and "you never know" to questions about a Britney Spears episode and a Madonna episode reprise. Another guest star he throws in the mix? "Barack Obama!"
Rebecca in New York: Thank you for the Glee scoop! What else can you tell us about the finale?
Stand by for  more scoop tomorrow morning, including how the zombies are coming. Yes, you heard me!
Gracie in Hollywood: Is it true Jessica Simpson is going to be on Entourage this season?
True story! Entourage sources tell us Jess will pop up in one episode this year as another of Ari Gold's many superstar clients. Per usual, expect Jess to play a bit of a caricature of herself.
2009 Starz Entertainment, LLC
Jolene in Arkansas: Will we see Ryan Hanson and Adam Scott back on Party Down if it gets another season?
Even with its sad state of ratings, we adore Party Down--and so do its stars! Adam tells us he's so happy to be a part of the Parks and Recreation family, but he's still onboard for more Party if need be. "By design, the show can withstand cast changes, but I can do three episodes if it gets picked up and I would be anxious to do it." As for Kristin Bell's bestie Ryan, whose NBC pilot Friends with Benefits was recently picked up, he'd love to come back, too. "I don't know how that works, but hopefully," he said. "And hopefully they get a season three." 
Mae in Boston: More Parks and Recreation, please!
Ask and ye shall receive. Look for lots of fun stuff between Tom (Aziz Ansari) and Ben (Adam Scott) at the start of season three, as a new brand of bromance ignites in Pawnee.
Martin: I don't get HBO. Wah! What can I watch this summer instead of True Blood?
Actually, ABC's The Gates is pretty engaging. I just checked out the first two episodes and it's sort of like Desperate Housewives (sans camp) meets your favorite vampire-porn series (see above)--but a lot more family friendly. Rhona Mitra stars as a suburban housewife who is a vampire married to another vampire and trying to battle her blood-sucking urges while raising a daughter...And really, how can you go wrong with Rhona Mitra? The gated community in which she lives also has werewolves and succubuses.(Succubi? No wait, sorry, they're all hetero. Ba-dum-bump.) And the teenagers are in on the action too. It's worth checking out. Premieres June 20 on ABC.
Brittany in Overland Park, Kan.: Pretty Little Liars are my favorite books. How different is the show going to be?
You probably know that the actresses (except Privileged's Lucy Hale as Aria) don't physically resemble the books' characters (although they sure are pretty!), but their personalities and the plot are pretty spot-on. When we chatted with the cast on set when they were filming episode six, Troian Bellisario (Spencer) said, "We're kind of going out of order right now—we're just hitting on some things in [the first book], and now we're into two." What happened to the girls' nasty friend Alison is revealed at the end of the first episode—and there's nothing pretty about that. (Come back here tomorrow before the show's premiere for more scoop from the Pretty Little Liars set!)
Breanne in New York City: I'm such a fan of the Huge novels, but am a little ambivalent about the new ABC Family series. Any words of encouragement?
My advice to you is to go in with an open mind, and know that Huge is not exactly the same as the novels you know and love. That said, it's fun summer fare and definitely something to fill the void while all your other faves are MIA. And Gina Torres (of Angel and Firefly fame) is absolutely fab in one of the few adult roles on the show.
Linc in Atlanta: Forget Lost, I'm still hurting over the end of 24. But at least we still have the movie, right?
Indeed! Howard Gordon is putting hope in all the hearts of Jack Bauer fans around the world. "The current status of the movie is that Billy Ray has written a draft which Kiefer has read, and we're all working together on the second draft," he says. But don't start planning your premiere night outfits just yet, as there have been no official announcements: "It's very much a work in progress. It's all very much speculative at this point."
Jamie in Hollywood: Yay for Lie to Me coming back! What's going on in tonight's season premiere?
The spring season of Lie to Me opens with an intense episode, called "Beat The Devil". Lightman (Tim Roth) chases his suspicion of a young scientist being a psychopathic killer, and he's not just trying to get back at the student for showing him up at his own lying game. The team doesn't really believe Lightman, but they help him unravel the mystery anyway.
Kalee in Boston: Lie to Me is the only reason I'm excited for summer TV. Got any scoop for me?
The June 14 episode has an explosive beginning, and it revolves around Lightman's past. Not only do we get a case that comes from his days with the CIA, but we get to see how Lightman and Foster met and became team members.
Gregory in Dallas: Last week's episode of Friday Night Lights was sensational. Any scoop on this week's episode?
Totally agree. Zach Gilford gave an Emmy worthy performance in our book. This week's episode of Friday Night Lights, titled "Stay", brings back the lovely Minka Kelly. Her scenes with Taylor Kitsch are as about a heart wrenching as you can get. More Emmy worthy stuff, I tell ya. If you don't feel a tug on your heartstrings when Lyla asks Tim a not-so-simple question, you must have no soul!
Aileen in New York: I know Taylor Kitsch won't be a series regular anymore on Friday Night Lights, but he'll be coming back for some episodes next season, right?
Jason Katims sure thinks so! "We're hoping he will come back for the last few episodes of the fifth season," he tells us. "I'm certainly hoping he's coming back because we've written the episodes!" Taylor, we know you'll be busy being a huge movie star, but make sure you come back to Dillon, 'kay? As for Adrienne Palicki, she tells me: "Yes. I will be back this final season. Probably a couple episodes. I'm thinking the later part of the season."
Claire in Bridgeport, Conn.: So bummed Nurse Jackie is ending! What can we expect on tonight's season finale?
You can expect Coop (Peter Facinelli) to make a new friend: Sam's fist. Coop is the dumbest doctor we know, but openly admitting to sleeping with Sam's girlfriend and trying to pass it off as a favor is the stupidest move he's pulled in awhile. But you really want to know if Jackie makes a decision between Kevin (Dominic Fumusa) and Eddie (Paul Schulze), right? Well, this episode will actually have you pulling for both men, and the final moments of the finale are ones that we've been working up to allll season long.
Brandon in Poughkeepsie, Pa.: Anything on the United States of Tara finale?
Whoda thunk Tara's kids would be the ones to find out the piece of her past that might just fix this whole personality disorder thing?! We'll that just so happens to be the case.
—Additional reporting by Jenna Mullins, Drusilla Moorhouse and Megan Masters

Follow me on Twitter @kristindsantos.
________
True Blood is just a few days away, so take a peek at our season three photos to warm up for the premiere.