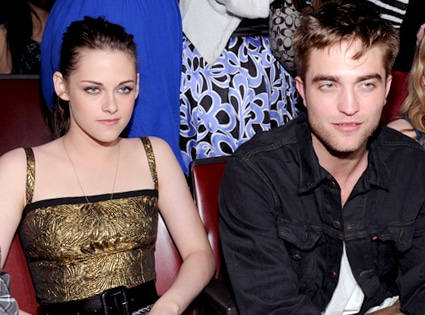 Evan Agostini/AP IMAGES
We say this completely with no bias: Kristen Stewart was one of the best dressed ladies at last night's MTV Movie Awards.
K.Stew was one of the last to show on the red carpet, and wore a D&G strapless dress and extensions back in full force. And while she may have skipped interviews on the carpet, actions spoke louder than words inside the show:
"Rob and Kristen know exactly how to work the mystery of their relationship," an insider says about the crafty, yet still legit couple. "They know all eyes are on them at big events."
Sill, maybe that means Robsten's more comfortable in letting fans in on what is really up between 'em.
Kristen was rushed into the theater and seated next to BF Robert Pattinson before accepting the first award of the night?for Best Female Performance for New Moon. Rob looked on quite adoringly.
This put in motion NM sweeping up almost every award of the night, most notably Robsten winning Best Kiss for the second year in a row.
"Kristen tripped right when she got up," an onlooker tells us, which was of course shown on TV. "She was so cute, she just laughed it off, shaking her head, after the camera cut away, and Rob didn't take his hand off her lower back until they got to the stage."
We all caught wind of the awkward yet incredibly sexy tension onstage before Rob shocked us (and yes...Kristen, too) by stealing a quick kiss there at the end of their acceptance speech. After being rushed backstage Robsten "had the giggles" and then were eventually ushered back into the audience.
"Each time Rob or Kristen would come back into the theater, the whole audience would erupt in applause," says a source inside. "And each time Rob and Kristen would smile and wave to the fans."
After winning Best Kiss, Kristen eventually went back to her seat, up front behind Sandra Bullock, while Rob was taken to stage right, to give him easier access to approach the podium when he won Best Male Performance.
"When Rob won, Kristen proudly gave a huge lip-biting smile, and clapped as he took the stage," a spy seated near K 'fesses.
Pattinson then thanked his parents for conceiving him (hey babe, we're all grateful) and gave a special thanks to Kristen?long pause?because without her the movies wouldn't exist. Uh huh, way to give thanks to your girlfriend without drawing too much attention. Whatever works for you two, we love it!
After what seemed like an hour and a half of Rob, Kristen, and Taylor Lautner shuffling around the Gibson Amphitheatre, and their presentation of the Eclipse sneak-peek, Rob and Kristen were finally back and seated next to each other near the end of the awards. (And with no publicist in between them, talk about big relaysh steps.)
"They literally did not stop talking and laughing the entire time together, until Best Movie was announced," adds our eyes a few rows away. "Every now and then Kristen would lay her head jokingly on Rob's shoulder, he'd put his hand on her leg, and they genuinely looked like they were having a lot of fun."
As for the rest of the cast, they were all seated a little ways back from Robsten and Tay-Tay. BFF's Nikki Reed and Elizabeth Reaser were girl-talking throughout the show, with Peter Facinelli, Anna Kendrick, and the rest of the cast (minus Ashley Greene who was celebrating one of her best friend's b-day's instead) were seated around 'em.
After the final award Rob, Kristen and Taylor immediately left, while the rest of the cast did a bit more press.
Still, not a bad night to be a vampire! Or a human, but only if you were in New Moon.