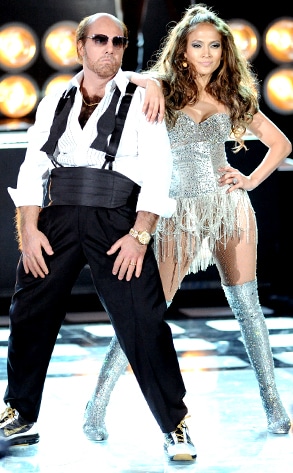 Jeff Kravitz/FilmMagic
We probably haven't seen the last of Les Grossman.
Tom Cruise told me backstage after his Tropic Thunder's alter-ego performance with Jennifer Lopez at the MTV Movie Awards that…
He's hoping for a Les Grossman movie. "We're working on it," he beamed. "Yup, we're working on it."
He also told reporters that wife Kate Holmes' choreographer, Tyce Diorio, helped him with the ass-slapping, booty-bumping routine. He said Holmes loved the performance. "She was there when we were working on it," Cruise said.
Also in the house was...Suri! After the show, Cruise waited for Holmes and their little one outside. (Check out this exclusive pic of Suri on Twitter.) Papa Tom hung out with Cameron Diaz, who he introduced to Karate Kid star Jaden Smith. Diaz gave Cruise's son, Connor and big hug and kiss hello. Mr. Cruise also got a big hug from awards show producer Mark Burnett.
Perhaps Les Goodman will appear in the Hangover sequel. Cruise chatted for a few minutes with Todd Phillips, the director of the hit comedy.
Suri wasn't the only celebrity offspring I spotted. J. Lo had the twins in tow. Mama Lopez, wrapped in a white bathrobe, had Emme in her arms while Marc Anthony carried Max as they made their way from backstage to her trailer.
Okay, everybody, who wants to see a Les Grossman movie? Leave your comments below.