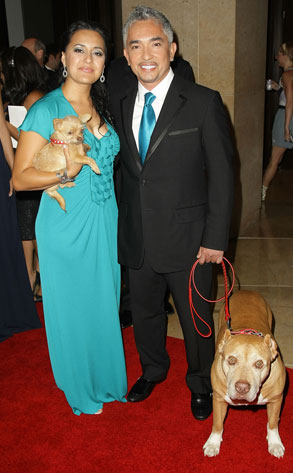 Neilson Barnard/Getty Images
Even the Dog Whisperer couldn't talk, demand or otherwise coax his way out of this one.
Cesar Millan's wife, Ilusion, filed for divorce Friday after 16 years of marriage, citing irreconcilable differences as the reason.
"We are sad to announce that after 16 years of marriage we have decided to file for divorce," read a statement posted on Millan's website. "The decision was made after much consideration and time. We remain caring friends, and are fully committed to the co-parenting of our two boys."
Ilusion, meanwhile, is asking for primary physical custody of their sons, as well as spousal support from the reality-TV star and bestselling author. No word on what they'll do with the Cesar and Ilusion Foundation, which aids and supports the rescue and rehabilitation of abandoned or abused pups.
Dog Whisperer is now in its sixth season on the National Geographic Channel.
(Originally published June 5, 2010, at 8:15 a.m. PT)