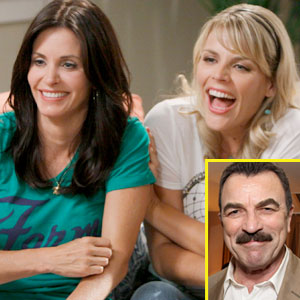 ABC/Michael Desmond; Eric Charbonneau/WireImage.com
Will a catfight break out if Tom Selleck actually ends up guesting on Cougar Town?
As we reported just the other day, the former Magnum, P.I. star says he'd welcome the chance to reunite with Courteney Cox on the hit ABC series. And now...
Cox's costar Busy Phillips says she'd be into it, too—but for selfish reasons.
"I would want him to be my love interest," she said at the Kari Feinstein's MTV Movie Awards lounge.
Yeah, but does she dig Selleck's signature bushy moustache? "I don't know," she said. "That's a little weird [because] my dad has a moustache."
But on the other hand, she added, "I'm not opposed to facial hair. My husband has a full beard."
As for that possible name change for the show, Phillips said, "There's been a talk about renaming the show literally since episode three…I've pitched my names. I thought Modern Friends would be really funny."
—Reporting by Brett Malec