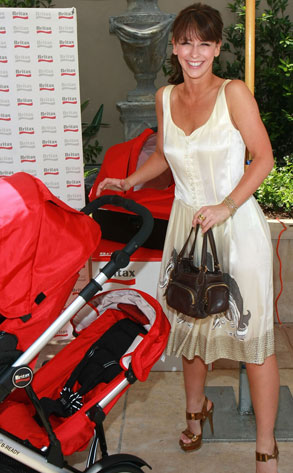 Anna Webber/WireImage.com
Jennifer Love Hewitt is OK not having a boyfriend. Really, she is!
"My love life is just me, and I'm very happy about it," Hewitt, who split from boyfriend Jamie Kennedy in March after about a year of dating, told us earlier today at Kari Feinstein's MTV Movie Awards Style Lounge. "I've not done the single thing very much, as you know, and I'm happy to do it."
Does that mean she's no longer vajazzling south of the border? Read on to find out…
"I vajazzle more for myself, so I have that secret sparkle that no one knows about," Hewitt teased. (For the record, Hewitt says she was not vajazzled when we spoke to her.)
As for Kathy Griffin's recent foray into decorating her lady parts, J.Love complained, "I'm a little upset that she did not say that it was my idea."
J.Love also told us she's hard at work on a follow-up book to The Day I Shot Cupid, her recent self-help guide to finding the right guy. "It's going to be about loving yourself," she explained. "I figured out in the last one I wrote a lot about how to get a man to fall in love with you but not very much about how, if you don't love yourself, that's not going to happen."
And now that Ghost Whisperer is dunzo, Hewitt may head to New York. "I'm looking at possible doing Broadway," she said. "To be able to sing and dance will be fun."
And what did Ms. Single Lady check out at the swag lounge? V Moda headphones, Infinity Sun tanning products, Isagenix health supplements and Britax's line of...baby strollers!
—Reporting by Brett Malec