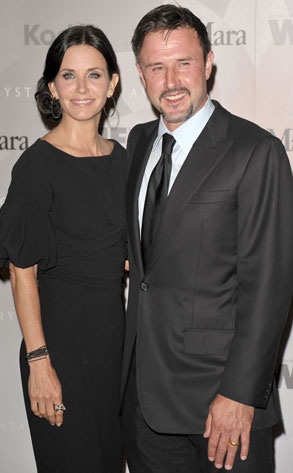 John Shearer/WireImage.com
Courteney Cox isn't embarrassed to admit she regularly goes to therapy. And not just with her hubby David Arquette but also with her friend, Laura Dern!
"We really do go to therapy together," Courteney confirmed as she accepted honors for Excellence in Television at last night's Women in Film Crystal + Lucy awards. The confession came after Laura quipped that she brings Courteney with her to therapy sessions since her famous Friend can help figure out what's wrong better than the shrink.
"Sometimes couples [therapy]," Cox added, referring to hubby David Arquette, who was looking on adoringly from the audience, "but more likely, just us."
Courteney had another surprise famous face cheering her on from the audience on her big night...
BFF Jennifer Aniston, who won the Crystal award last year and gave a very memorable acceptance speech, was in the house to support Courteney.
No word if these two share their deepest secrets on the shrink's couch. The rest of Courteney's speech didn't refer to any of Aniston's woes. But she did give props to David.
"They say behind every great woman is a great man," she said. "Well, actually, they don't say that...but I do have one!"
And despite recent reports of this twosome being on the rocks, they looked perfectly happy together last night.
Zoe Saldana was also honored at the awards as the Face of the Future, where she told the audience she'd love to play a "pregnant superhero".
Meanwhile, Debra Messing hosted and Colbie Caillat performed at the fete, where guests toasted to girl power with Jacob's Creek wine.