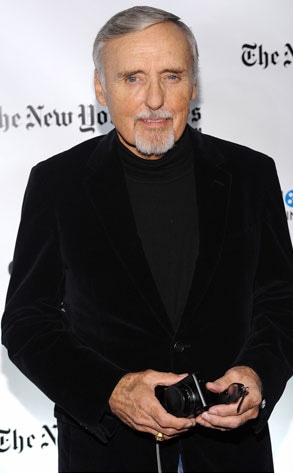 AP Photo/ Evan Agostini
Dennis Hopper was no Easy Rider.
Hopper, the actor who upended Hollywood with his hippie classic, lost chunks of his career to hard-headedness and drugs, and wound up a revered elder statesman, died Saturday, May 29 at his home in Venice after a lengthy battle with prostate cancer. He was 74, and on seemingly on his ninth, if not tenth, life.
Unpredictable to the end, Hopper filed for divorce from his fifth wife, Victoria, while undergoing chemotherapy.
"I've reinvented myself so many times," he once said.
Twice nominated for an Oscar, Hopper came up with his greatest creation when he and Peter Fonda decided to make "a Western, only on motorcycles."
Easy Rider saw Hopper and Fonda mount up as drug dealers Billy and Wyatt, with Jack Nicholson, in his breakthrough role, as their straight man. The movie's last line--"We blew it"--became as iconic as its meaning was debated.
Produced for less than $500,000, a bare-bones budget even for 1969, the film was a worldwide sensation, marking the moment when old Technicolor Hollywood faded.
"It did change people's minds about films in Hollywood," Hopper told Charlie Rose in 1994. "Independent films started to be made."
Born May 17, 1936, in Kansas, the future Hollywood rebel was a product of the studio system, breaking into the movies as a teenager, with roles in the James Dean classics, Rebel Without a Cause and Giant. On the whole, there wasn't much in Hopper's early credits--heavy on sitcoms and Westerns--to suggest a counterculture icon in the making. (His attitude, however, had been frowned upon by the establishment since the 1950s.)
By his early 30s, as "Don't trust anyone over 30" became a mantra, Hopper let his hair out in youth exploitation flicks such as The Trip, which also costarred Fonda. Easy Rider, released in 1969, was to be Fonda and Hopper's farewell to the biker movie. And it was. And so much more.
"I didn't think it was going to be able to be stopped. I felt that from the beginning, man, I never had any question about it," Hopper told DGA Magazine in 2003.
Easy Rider earned two Academy Award nominations, including a shared screenplay nod for Hopper, Fonda and Terry Southern.
If Easy Rider was a rocket ride, so was Hopper's life after the movie--a one-way, drug-fueled descent. In 1970, his marriage to The Mamas & the Papas singer Michelle Phillips lasted eight days. In 1971, his newly hot directing career flamed out with the barely released The Last Movie. An appearance in 1979's Apocalypse Now was a rare highlight from the decade.
In the 1980s, Hopper sobered up, and work picked up. In one stretch, he appeared in River's Edge, Blue Velvet and Hoosiers, in the latter earning a Supporting Actor Oscar nomination for playing an alcoholic father.
"I thought I'd be dead before I was 30," Hopper told Time magazine in 1986. "Turning 40 stunned me. Fifty is a major miracle, and I think I may even make 70."
Hopper did make 70. In later years, he pursued art and photography, even while being regularly called on by Hollywood to lend a little unhinged cred to a project. Latter-day screen credits included Speed, a stint on 24 and the Starz series, Crash.
Survivors of the '60s who still recognized Hopper as Easy Rider's Billy might have been surprised to see the star pitching retirement planning in commercials for Ameriprise, or to learn the man was a George W. Bush Republican (who went on to back Barack Obama).
But then, Hopper specialized in surprises almost as much as reinvention. In March 2010, a day after his lawyer said the actor was dying and beyond cancer treatment, Hopper attended the unveiling of his star on the Hollywood Walk of Fame. He looked weak, his head and a hand sported bandages, but he was there.
"Everything I've learned in my life I learned from you and the wonderful world that I traveled and saw," a sentimental Hopper said, per a local wire service. "...This has been my home and my school. And I love all of you. I just want to thank you. This means so much to me, and thank you very much, everyone."
(Originally published May 29, 2010, at 10:22 a.m. PT)
________
Hollywood lost another star this weekend in actor Gary Coleman. Take a look back at his life, then browse through Dennis Hopper's life in pictures.