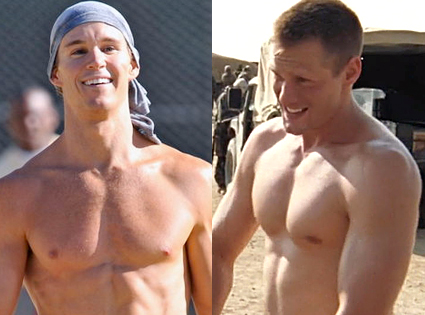 HBO
True Blood's resident nudist, Ryan Kwanten, can welcome Alexander Skarsgård to the naked club earlier than expected!
The new season of HBO's vamp hit—in which we were promised mucho skin—doesn't debut until June 13. But leaked pics have hit the web that show...
A.Skars has got some junk in his more manly trunk! He sure ain't an overly sculpted gym twink like Kwanten.
Sure, both Ryan and Alex have had no problem flexing their chiseled chest for the cam, but it's only fair that after two seasons of being the primary (unclothed, male) eye candy in Bon Tomps, that R.K. get some naked dude company, right?
So who does it best? The Aussie hottie vs. the Swedish sensation.
Which dude's bulked up chest and yum tush make you absolutely drool? And remember, while we would definitely choose both, that's not an option!
Awful's True Blood Body Poll