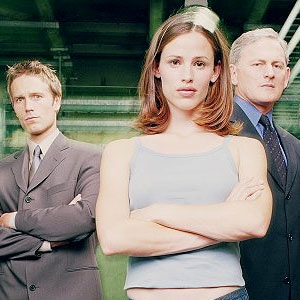 ABC
Is the TV world ready for another Sydney Bristow?
Nothing is even close to being anything official yet, so don't go dying your hair bright red in celebration or anything, but: 
A reliable insider at ABC tells me that there is talk of the network doing a "reboot" of one of the greatest TV series of all time, J.J. Abrams' Alias.
How? When? Where? Why?
Again, it's only very initial talk at this point, but I'm told that the development folks over at the Alphabet network are considering doing a new version of Alias that would borrow some elements of the original series that starred Jennifer Garner (and Michael Vartan, Victor Garber and some guy named Bradley Cooper who must have slipped into oblivion since). But the series would most likely not include any sort of complex mythological throughline such as the Rambaldi prophecy (a storyline that lost some of the fans).
According to this source, ABC is hoping to hold onto its lost Lost audience with a re-envisioned J.J. Abrams series, in light of FlashForward not working out so well. (It was canceled last week.)
In the meantime, J.J. is of course working on another new spy series for NBC—Undercovers, about a retired spy couple who gets back into the espionage game after opening a catering business. Those who've seen it are reporting back great things.
Check out this sneak peek of Undercovers right here:
And that's not the only spy series in the works for this fall. The CW also is already garnering some buzz for its new spy thriller Nikita, based on the film La Femme Nikita, and starring Mission Impossible 3's Maggie Q. (Alias was accused of borrowing some elements from La Femme Nikita back in the day.
I spoke with Maggie Q last week at the CW upfronts in New York, where they also showed us some of the pilot, and have to say Nikita also looks very promising. Check out my interview with Maggie and a sneak peek of Nikita below...
So much girl-power spyness in the works, can you stand it? And do you think it's a good idea to bring back Alias in some form? Hmmm...Maybe Terry O'Quinn could even take part again? Yeah, fat chance. But still, it could be great! Comment below.
________
If you're still trying to figure out what Lost was all about, go here.