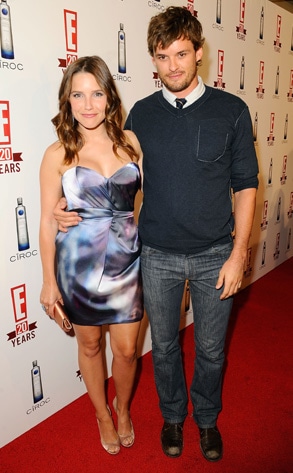 Michael Caulfield/WireImage.com
Kissing costars Sophia Bush and Austin Nichols aren't hiding their relationship anymore, but who knew they've actually been dating for years?
It was news to us when the One Tree Hill star shared that tidbit last night at E!'s 20th birthday bash.
"We've been dating off and on for the past four years," Sophia told me at the London West Hollywood hotel.
Sophia was understandably wary about dating a costar after what she refers to as the "Chad [Michael Murray] debacle," but Austin made a grand gesture that convinced her to go for it...
"I was pretty terrified," she admitted, referring to her marriage to her former costar. But it turns out that Austin actually took a job on One Tree Hill to be with her!
"We had so many years of history prior to him coming to work on the show," she explained, "and I think someone taking a job and moving their life across the country to show you how much they care is pretty much the most romantic gesture that a person could make."
Now that the two are out-in-the-open love interests on and off the small screen, could a real engagement be coming in real life too? Stay tuned!