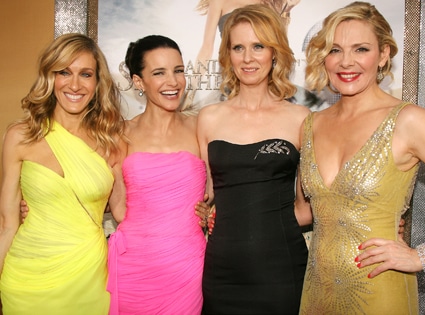 Dave Allocca/startraksphoto.com
Sex and the City 2 is going to kill it at the box office this weekend, no doubt, but don't tell that to Sarah Jessica Parker.
"I'm still so nervous," she told me at the movie's premiere at Radio City Music Hall. "Look at my cuticles!"
John Corbett, who returns as Carrie Bradshaw's former beau Aidan Shaw, wasn't sweating things at all...
In fact, Corbett says he wasn't even upset by reports claiming he'd turned down an offer to come back.
"I had to lie and tell people I wasn't coming back," said Corbett, who looked smashing in a Ralph Lauren Black Label suit. "Even up until two months ago I had to say I wasn't in the movie because they wanted to keep it a secret. But then one day, [director-writer] Michael Patrick King called me and said, "We're putting you in the trailer so you can stop lying now.'" 
A new addition to the SATC family is smokin' hot model Noah Mills. He has quite the bedroom scene with Kim Cattrall in which he's wearing, well, nothing.
"It was some sort of sock device," he said of covering up his manhood. "I won't go into detail, but it didn't work very well."
Parker & Co. headed over to Lincoln Center after the screening for a Middle Eastern-themed party under a giant tent. Seen mingling were Gilles Marini, Gayle King, Vanessa Williams and Johnny Weir. Guests feasted on hummus and chicken and beef kabobs, but one of the biggest hits were the 1,200 bite-size Crumb cupcakes for dessert.
Parker slipped into a black Elie Saab number for the party after wearing a flourescent yellow Valentino gown on the light blue carpet at Radio City. Hubby Matthew Broderick suited up in Tom Ford.
Former Melrose Place star Colin Egglesfield said he was on the hunt to meet Cattrall. "She embodies everything I love about a woman," he said. "She's sexy and she's got that moxy and sassiness that I love in a woman."
Are plans already underway for a third Sex and the City movie? Make sure to come back here later on to find out.
(Originally published May 24, 2010, at 10 p.m. PDT)