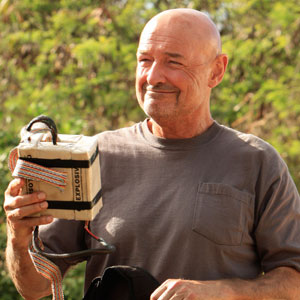 ABC/MARIO PEREZ
What about Walt?! Did Smokey have a name? Who was number 108? I know you have just a, um, few lingering questions after last night's amazing Lost series finale (get the Redux here!), and as luck (destiny?) would have it, I served up these very answers at my totally awesome-sauce Lost finale party...
So I was joined by 23 fellow die-hard fans (chosen via Twitter and email), who gave their brutally honest reactions to the episode, and survey says: One person "hated it," four people "liked it," and the rest "loved" the finale.
Not too shabby! Though our delicious Lost-themed cupcakes (from Sweet E's Mini Bake Shop) and "Jin and tonics" may have colored our vision, there was much Lost love in the room. You can hear all the fans' and my instant reactions after watching the finale together in this video right here...
As for those burning, lingering questions? Well, you can see those answers right here...
Insiders tell me that the Man in Black did have a name in the script, but the powers that be decided not to spill it...Find out what it is and what it means in the video above.
Think Sun was the final "Kwon" candidate? Think again.
And that much-fawned-over number 108 in the lighthouse? It served a greater purpose. 
A special thanks to everyone who came to my Lost party, and the fantastic production team who did such a great job putting it all together. We had real fans, real airplane seats, Oceanic boarding passes, Locke's wheelchair, Apollo bars, Dharma beer, a 108-inch plasma screen (4+8+15+16+23+42=108) and just so much Lost goodness! It was a truly memorable night and I can't imagine a better way to have concluded this awesome journey than with you fellow fans.
Whether we agreed, or agreed to disagree, you all brought some serious magic--good theories, thoughts and questions--and I respect you for it.
________
It's the last Lost Redux...evah. Take a good long look at it here!
The Lost stars have questions, too, and we got Damon and Carlton to answer 'em.