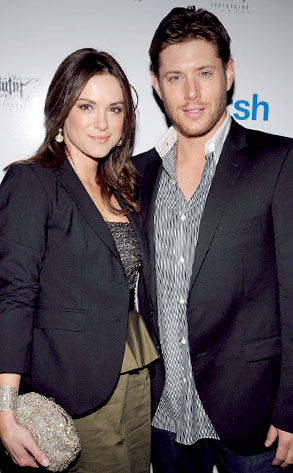 Gary Gershoff/WireImage.com
Danneel Harris and new hubby, Supernatural hunk Jensen Ackles, kept their chic wedding ceremony a secret from the press—except us!—and more impressively, the paparazzi. But the duo are going a whole different route with their honeymoon, if you could call it that.
D paraded her new legalized beau at the Gersh Agency's 2010 upfronts, held at the Juliet Supper Club in New York City earlier this week. How romantic—nothing like sharing the first few days of being newlyweds with corporate sponsors and reporters to set the mood.
Or is that what gets these two hot and bothered?
Can't help but wonder how a smart chick like Danneel spent months planning her big day but just happened to forget another event scheduled months in advance: upfronts, the big hoopla where networks roll out their fall seasons.
And this fall, both babes have shows to sell: J.A. will continue hunting demons with his sexy costar Jared Padalecki, and Danneel landed a lead role on NBC's new half-hour comedy Friends With Benefits—which, from the preview, doesn't look too bad actually, hoo-ray!
Success for her new pilot will mean Danneel can finally escape the sinking (critically) ship that is One Tree Hill. Jana Kramer, who starred on the prime-time soap with D.H., chatted with us at the Maxim Hot 100 party and admitted she wasn't sure if D would be returning to stir up trouble—which, she won't, should her new show hit the airwaves.
What Kramer was sure of was how truly happy the duo—whom we now dub Hackles—seem to be.
Of course they're happy. Nothing sells better than newlyweds, no?
Well, except for sex scandals, celebs coming out and anything Angelina Jolie, but unless Danneel comes out as a lesbian and has a torrid affair with Angie, wedded bliss will have to do.
And to be honest, Danneel wears attention well. Like, really well, 'cause the now-brunette gal looked hot as ever in an Alice + Olivia mini and a business-chic blazer, her slightly rugged man candy wrapped around her blinged-out finger.
Can't help but admit we're impressed with just how crafty Danneel is. Can't wait to see their vows renewed for May sweeps!